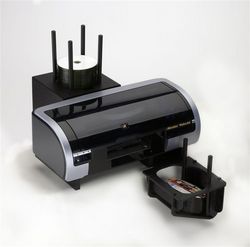 On the top of our list of most important criteria in developing the RoboJet AutoPrinter 100 was to have a unit that produces professional results
Chatsworth, CA (PRWEB) September 22, 2008
Aleratec Inc., leading developer and manufacturer of "Prosumers' Choice" solutions for the USB, Flash, HDD, Blu-ray, DVD/CD, duplicating, and publishing markets, has launched its new Aleratec RoboJet AutoPrinter 100™, a robotic BD/DVD/CD disc printer that prints custom inkjet labels directly on each disc in brilliant color. It is fully automatic and can print up to 100 BDs/DVDs/CDs virtually unattended. The innovative RoboJet AutoPrinter 100 uses standard HP ink cartridges available anywhere and features HPs unique PhotoREt color-layering technology that delivers vivid, true-to-life photo quality images with extremely sharp text printed directly on the customer's discs.
The Aleratec RoboJet AutoPrinter 100 is a compact, attractive, totally integrated package with a sculptured transparent protective door that allows viewing of it in operation. It's fast, affordable, and easy-to-use. Just plug it in, connect one USB 2.0 cable, and install the software. Anyone can put the Aleratec RoboJet AutoPrinter 100 to work in a matter of minutes.
"On the top of our list of most important criteria in developing the RoboJet AutoPrinter 100 was to have a unit that produces professional results," stated Perry Solomon, Aleratec President and CEO. "Recognizing that image quality and color are critical to the success of a disc printer, we chose HP, the leaders in inkjet printing technology. With its HP engine, the Aleratec RoboJet AutoPrinter 100 is capable of producing top quality, crystal clear images in brilliant colors and the Aleratec RoboJet uses standard HP ink cartridges. The Aleratec RoboJet is convenient for customers who prefer widely-available, standard cartridges over proprietary consumables. The Aleratec RoboJet has a compact desktop size, and includes an intuitive Aleratec disc label design software suite that makes designing professional looking custom labels really easy."
Most automated inkjet disc printing solutions available today require complex external robotics to load and unload discs to and from the printer. A key differentiating feature of the Aleratec RoboJet AutoPrinter 100 is the disc handling robotics are a part of the printer. There are no external moving robotic arms or disc handling apparatus. Blank discs are loaded in the top the printer and finished discs eject automatically from the printer tray. The RoboJet has a footprint no larger than a manual inkjet disc printer and it has a 100 disc capacity.
The Aleratec RoboJet AutoPrinter 100 incorporates HP PhotoREt color-layering technology for controlling the placement of the inks more precisely than ever before. Each dot is capable of receiving 29 minuscule drops of color, each one precisely positioned to achieve smoother graduations in tone and to virtually eliminate any grain in the printed image. The result is a color palette many times greater than conventional Inkjet printers, finer color control, faster printing, and improved image quality.
The Aleratec RoboJet AutoPrinter 100 inkjet disc printing system (Aleratec Part No. 360101, Ingram Micro SKU U07770, Tech Data SKU 86967J), proudly assembled in the USA from components sourced globally, can automatically and quickly print up to 100 disc labels, unattended, directly on the discs in brilliant colors has a low Estimated Retail Price of $2099.
For best results in maximizing superior print quality with bright, vibrant colors, Aleratec HydroGuard Duplicator Grade media is recommended for its quick drying smear, smudge, and water resistant disc surface with glossy uniform whiteness from hub to outer edge:
HydroGuard Inkjet Printable DVD-R 16x Duplicator Grade Media 90-Pack
Aleratec Part # 230116, Ingram Micro SKU U06807, Tech Data SKU 25373I
ERP $89.99
HydroGuard Inkjet Printable DVD R 16x Duplicator Grade Media 90-Pack
Aleratec Part # 300117, Ingram Micro SKU U09518, Tech Data SKU 90316M
ERP $89.99
HydroGuard Inkjet Printable CD-R 52x Duplicator Grade Media 90-Pack
Aleratec Part # 110119, Ingram Micro SKU U06806, Tech Data SKU 25372I
ERP $79.99
The full line of Aleratec solutions, and accessories is featured at AAFES, Adorama, Amazon.com, B&H Photo Video, Best Buy, Buy.com, CDW, Circuit City, Dell, Hewlett Packard, Insight, J & R, Mac Connection, MacMall, Meijer, Micro Center, NewEgg, Office Depot, PC Connection, PC Mall, PC Nation, ProVantage, Quill, QVC.com, Ritz Camera, Staples, Tech Depot and Wal-Mart in addition to other leading retailers.
Government and Education customers may purchase from Government and Education Specialists including AAFES, B&H Photo Video Gov, Best Buy Gov/Ed, CDW-G, CompuCom, EnPointe, GovConnection, GTSI, Insight Gov, PC Mall Gov, Pomeroy, Sayers, Shi.com, Softchoice, telcobuy, TIG, and Unisys. All products are available to resellers in the U.S. through D&H Distributing, Ingram Micro, and Tech Data; in Canada through D&H Canada and Ingram Micro Canada; in Latin America and the Caribbean through Tech Data Miami. Complete information available at http://www.aleratec.com/
About Aleratec:
Aleratec Inc. is a leading developer and manufacturer of "Prosumers' Choice" solutions for the USB, Flash, HDD, Blu-ray, DVD/CD duplicating, and DVD/CD publishing markets. Exciting new disc duplicating and disc publishing products and optical recording media are establishing a higher standard in the industry offering professional strength solutions at consumer prices that are exceptionally easy to use, creating the ultimate "out of box" product experience. Aleratec, Inc. is headquartered at 9851 Owensmouth Avenue, Chatsworth, CA 91311. For more information visit http://www.aleratec.com/. E-mail sales(at)aleratec.com. Toll Free Phone: 1-866-77-ALERATEC, Phone: 1-818-678-6900, or FAX: 1-818-678-0486.
About HP:
HP focuses on simplifying technology experiences for all of its customers - from individual consumers to the largest businesses. With a portfolio that spans printing, personal computing, software, services and IT infrastructure, HP is among the world's largest IT companies, with revenue totaling $107.7 billion for the four fiscal quarters ended Jan. 31, 2008. More information about HP is available at http://www.hp.com/.
###