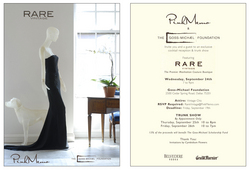 Dallas, Texas (PRWEB) September 22, 2008
PinkMemo.com Dallas Edition presents RARE Vintage - Manhattan's premiere vintage couture boutique during an exclusive cocktail reception at the Goss-Michael Foundation, followed by an appointment only two-day trunk show in a luxury suite at Rosewood Mansion on Turtle Creek.
Perfectly Pink and Veritably Vintage! On September 24th Dallas' foremost fashion resource PinkMemo.com will present the RARE Vintage collection of vintage couture that has been worn by celebrity stars such as Angelina Jolie, Kate Beckinsale, Laura Dern, Rachel Weisz and more. The exclusive invitation-only cocktail reception will be followed by an appointment only two-day trunk show. At the vintage-chic cocktail reception guests will enjoy specialty sips featuring the RAREtini provided by Grand Marnier and Belvedere Vodka with delicious hors d'oeuvres provided by Rosewood Mansion on Turtle Creek. Guests will peruse elegant vintage ensembles and exquisite accessories from designers such as: YSL, Chanel, Thierry Mugler, Alaia, Herve Leger, Claude Montana, Missoni, Gucci and Dior to name only a few.
Vintage fashion and art will mingle gracefully during the cocktail reception and guests will be able to meet with RARE Vintage owner Juliana Cairone and schedule appointments for the two-day trunk show. The RARE Vintage collection will be hand picked for the Dallas clientele and 15% of the proceeds will benefit the Goss-Michael Scholarship Fund, which offers high-school seniors in the DFW area and across Texas support with the challenging costs of pursuing a visual arts education at college level.
The by appointment-only the trunk show will be hosted at Rosewood Mansion on Turtle Creek in a luxury suite on Thursday, September 25th from 10-8pm and on Friday, September 26th from 10-7pm, located at: 2821 Turtle Creek Blvd, Dallas TX 75219. For further details visit: Get RARE by Appointment Only
ABOUT
PinkMemo.com: Got Style. Get PinkMemo! PinkMemo is a city-based online fashion publication, a social network and shopping guide that features fashion, style and luxury lifestyles news from metropolitan cities. Get the inside scoop on your local fashion and shopping scene. A style-savvy destination for chic shoppers, PinkMemo highlights the latest trends, reports on local stores, covers online boutiques, showcases new designers and supports philanthropic events. Style, shop, scene, scoop, shoot and spree, community gossip from your city.
Visit: http://www.PinkMemo.com
RareVintage: RARE Vintage is the new premier destination for vintage couture and frivolities in New York. Located in a bright and airy space on 57th street, RARE vintage is near high fashion emporiums Bergdorf Goodman, Chanel and Louis Vuitton. Exclusive and glamorous pieces from the Twentieth Century's most significant design houses are carefully chosen by the owner Juliana Cairone for being wearable and modern. The collection of chic and elegant eveningwear by Chanel, Yves Saint Laurent, Loris Azzaro, Dior and Ossie Clark is unrivaled by any other vintage collection in Manhattan. There is an assortment of sexy little black dresses from Alaia and Herve Leger as well as daywear from Gucci, Missoni and YSL. It is a must stop for all serious collectors and lovers of fashion.
Visit: http://www.RareVintageInc.com
Goss-Michael Foundation: The Goss-Michael Foundation was established by George Michael and Kenny Goss as a means to share their personal collection of British Contemporary Art with the public. Longtime collectors and advocates of the YBAs*, Michael and Goss have assembled a collection of innovative and often provocative pieces that encompass their personal experiences as well as those of the artists. The couple believes it is important to acquire avant-garde works and installations that might prove to be difficult for a museum to acquire and display.
Visit: http://www.GossMichaelFoundation.org
SPONSORS:
Grand Marnier: Grand Marnier is a staple of luxury in the world of spirits. It is the first orange liqueur you might think of to grace your margarita or cosmopolitan; the first orange liqueur you might use when making Crèpes Suzette or Duck à l'orange, perhaps Grand Marnier is the first choice when sipping a liqueur after a fine meal. No matter how Grand Marnier is enjoyed, it is most definitely the first liqueur of its kind: steeped in history, family heritage and flavor. For over 180 years, Grand Marnier has been a signature member of the spirits world, not just an enhancement, but also a base spirit par excellence in high-end cocktails, delicious foods and great sipping.
Visit: http://www.GrandMarnier.com
Belvedere Vodka: Belvedere, 'Beautiful to see'… What a fitting name for the world's first luxury vodka! Hailing from Poland, the homeland of vodka; using Dankowskie Gold Rye along with pure water from the distillery's own artesian well. Reaching perfect balance between purity and character through four distillations, producing citrus and orange flavored vodka using real fruits and proprietary maceration process in the South of France…. All this makes Belvedere distinctive in the world of vodka. Yet Belvedere is much more that vodka, it is the expression of a luxury way of life. Its creamy texture and soft clean finish, with notes of vanilla and Brazil nut stimulates the creation of extraordinary cocktails. Arrayed in its beautiful frosted bottle, decorated with the famous trees surrounding the Belvedere Palace in Warsaw, Belvedere shines as an icon of luxury in the bars and clubs where it is proudly served the world over. Welcome to true luxury vodka. Welcome to Belvedere.
Visit: http://www.BelvedereVodka.com
Cymbidium Flowers: Cymbidium offers premium floral arrangements, photography, as well as event design and production services that include but are not limited to custom gifts and invitations! Just like the fashion industry Cymbidium produces "collections" that are new and innovative and a perfect solution to all of your floral and event planning needs!
Visit: http://www.CymbidiumFlowers.com
Press Contact:
Maxine Morgan Trowbridge
O: 214.265.1499
E: Press(at)PinkMemo.com
W: PinkMemo.com
###