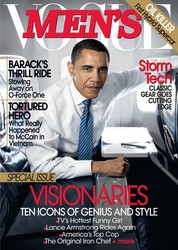 He's probably trying to keep a little lid on it
New York (PRWEB) September 22, 2008 —
In "The Greatest Story Never Told," by Corey Seymour in the October issue of Men's Vogue, retired colonel George "Bud" Day, McCain's POW cell mate, recalls meeting the man he calls his "best friend" and "brother" when McCain was delivered by captors to Hoa Lo, the prison known as the Hanoi Hilton. Though some details of McCain's five-and-a-half years in captivity have been published, conflicting stories abound as his presidential campaign skillfully plays the POW card. Tracking down Day, Seymour finds that unique circumstances made McCain's experience much more complex than voters realize, and wonders if McCain can get through to November 4 without discussing at any length the years he spent as a prisoner of the North Vietnamese. Day, who still uses the word "gook" when referring to his former tormentors, also shares bizarre examples of McCain's sense of humor.
Seymour asks Day if McCain—known throughout his life for an exuberant, off-the-cuff sense of humor—has taken some of the bite off his madcap strain of straight talk now that he's trying to be the leader of the free world:
"He's probably trying to keep a little lid on it," Day says, smiling, "but he is a very funny guy. Back during the war, there were a bunch of radical blacks—some of them called themselves the Black Panthers—and they were gonna take over the government, they were gonna incite the country to revolution, they were gonna burn all these cities down, and on and on and on. Well, anything like that the Vietnamese played on the radio. So one morning we got this black dingbat ranting on about this business of being called a Negro. He hated this idea of being called a Negro, because 'who the hell ever heard of a country called Negro?!' And instantly, John said, 'Right—name him after that country called Black.' He can turn some of those things into really humorous little things."
Day describes seeing McCain for the first time, when North Vietnamese soldiers dumped his body off a stretcher onto the concrete floor of Day's cell:
"I was stunned by his condition. He weighed about 90 pounds. I can smell him from about five feet away; he was filthy, and really pale, with this kind of film on him. His left arm was dangling out of its socket. He's got these really fevered bright eyes. My first though was: They dumped him on me so they can claim we let him die. I did not think he would live through the night."
Day explains something now known as "enhanced interrogation techniques":
"You might get tortured again and again, or you might not get tortured at all. It was random. If you had the will, they weren't going to get much out of you. They could make you talk, but all you had to do was lie, and they didn't have the skill to sort out what you said. They'd ask you things like, where do they keep the ducks and the pigs and the animals on the ship? If they hadn't hammered you too much to where you can't think, a lot of that stuff was pretty easy."
Day makes the distinction between the "active" and "passive" torture to which he was subjected:
"A passive torture session would be to put you on your knees with your hands up; you're in shorts, kneeling on a concrete floor. If you wanna get a feeling for that, just put a broomstick on the floor and kneel on that broomstick for about two minutes. The active tortures had a couple guys beat you with their open hand across your ears—to try to bust your eardrums as quick as they could. One guy would start it, and when his hands got sore the other guy would take over, and they'd just pound you unconscious. Or they'd manacle you; your hands were clamped together behind your back, and they'd just screw it down tighter and tighter and tighter until the blood stopped. But what was really painful was when they'd put their foot in your back like a pump handle and raise your arms to try and tear your shoulders and your back apart."
Seymour asks Day if he knew of techniques like these being used on McCain:
"Well, you have no way of knowing," says Day. The only way anybody could really confirm this stuff was if you were in the room next door. But if I don't see or hear, it's totally on the individual's own word. And we didn't talk about it. If you watch (McCain) he can't comb his hair. I know at his office, there's someone who gets him ready for interviews and one thing or another—she combs his hair and gets him presentable."
Seymour finds this inconsistent with an interview Day conducted a month later for the McCain campaign blog:
"We were bringing each other up to date, and (McCain was telling me how he had been tortured. John was complaining that they'd treated him like an animal."
Today, Day's views on torture contrast markedly with McCain's. Earlier this year, McCain voted against a Senate intelligence bill that would have required the CIA to abide by the interrogation tactics spelled out in the Army Field Manual on Interrogation:
"John's position is consistent with international law, which says that you don't torture prisoners," Day says. "But then you get down to what is torture? That's where a lot of these disagreements come out. I've been tortured, and I know. I don't agree with John 100 percent on his definition, but everybody's entitled to their own opinion."
Day soon came to believe that his cell mate was one of the smartest people he'd ever known:
"When you hear him talk about graduating fifth from the bottom of his class at the Naval Academy, that was by choice. He could have been valedictorian, but that wasn't where he wanted to be. That might have been walking in the shadow of his father or his grandfather, and he wasn't walking in anybody's shadow." Seymour found Phil Butler, a fellow student of McCain's at the Naval Academy, who says, "The guy who graduated last in his class is known as the anchorman and he gets recognized at graduation. McCain just said, 'God, if I'd just worked a little harder, I could have been recognized for this instead of just being fifth from the bottom.'"
The October issue of Men's Vogue is available nationwide on Tuesday, September 23. Please visit http://www.mensvogue.com for expanded coverage. For interview requests or articles from this issue, please contact Elissa Lumley at 212-286-2225 or Elissa_Lumley(at)condenast.com.
###