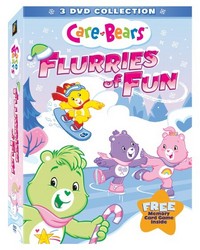 Los Angeles, CA (PRWEB) September 23, 2008
-Bear-y fun favorite adventures: "Care Bears Oopsy Does It," "Care Bears Grizzle-ly Adventures" and "Care Bears Ups and Downs" arrive in very special DVD 3-pack -- perfect for gift-giving -- October 7, 2008 from Twentieth Century Fox Home Entertainment.
Synopses:
In "Care Bears Oopsy Bear Does It," Oopsy Bear is the only Care Bear without a belly badge. When Cheer and Grumpy Bear build an amusement park for their friends, Oopsy Bear accidentally destroys it. Grizzle, an evil bear, uses Oopsy's mistake in a plot to steal the Care Bears' belly badges. But, Oopsy stumbles to the rescue proving you don't need a badge to be a bear who cares.
"Care Bears: Grizzle-ly Adventures" presents two episodes featuring the new bear in the Care Bear's neighborhood--Grizzle. He's a mean little bear in a big robot suit who hates caring. In "Broken," when Share Bear's favorite necklace is needed to fix her robot friend, Wingnut. Share keeps the necklace and goes to Grizzle instead. Will Grizzle help her friend or make even more trouble? And in "Emma's Dilemma" things are missing all over Care-a-lot. The Care Bears let Emma help them search, but she ends up missing, too, thanks to Grizzle. Can Emma and the bears find a way out of his trap?
"Care Bears Ups and Downs" also features two episodes "Cheer Up and "Down to Earth." In "Cheer Up," Cheer Bear decides to throw a party for Surprise. But she becomes uncheery when Surprise turns out to be unsurpriseable. So she distracts Surprise with "tasks" like picking flowers, hopping through town on one foot, and doing everything in reverse, so that the Bears can plan the party. In "Down To Earth," Wingnut's Care Bear Transporter beams Funshine to Earth so he can teach a lonely young boy how to make friends and have fun. But then the Care Bear Transporter breaks… and unless Wingnut can fix it, Funshine won't be able to return to Care-a-Lot!
A recognized global industry leader, Twentieth Century Fox Home Entertainment LLC (TCFHE) is the worldwide marketing, sales and distribution company for all Fox film and television programming on VHS, DVD and Blu-ray Disc (BD) as well as acquisitions and original productions. The company also releases all products around the globe for MGM Home Entertainment. Each year TCFHE introduces hundreds of new and newly enhanced products, which it services to retail outlets from mass merchants and warehouse clubs to specialty stores and e-commerce throughout the world. Twentieth Century Fox Home Entertainment LLC is a subsidiary of Twentieth Century Fox Film Corporation, a News Corporation company.
Length: 160 minutes
SRP: $29.98
###