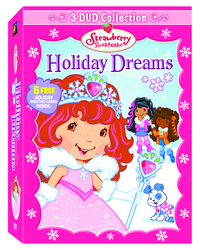 Los Angeles, CA (PRWEB) September 23, 2008
Three charming Strawberry Shortcake adventures will be available in one specially designed gift pack. The popular titles, "Berry Merry Christmas," "Big Country Fun" and "Let's Dance" make up the Strawberry Shortcake Holiday Dreams Collection, which will be in stores October 7 from Twentieth Century Fox Home Entertainment.
All three stories share the typical fun and adventure that fans have come to expect:

Berry Merry Christmas - It's the berriest, merriest Christmas ever with Strawberry Shortcake and Honey Pie Pony and all their friends! Christmas is coming! Strawberry Shortcake wants to do something special for her friends, so she travels to a magical place called Holidayland with Honey Pie Pony, searching for the perfect presents. And she finds them! Then, a trip to the North Pole and a visit with Santa make the adventure truly wonderful. Unfortunately, a pile of melting snowballs turns Strawberry's carefully selected gifts into a soggy mess. In the end, Strawberry learns that the best gift of all is the gift of friendship.
Let's Dance - Strawberry Shortcake and her Friends love to dance - and the Peculiar Purple Pie Man of Porcupine Peak is taking advantage of that! He has Sour Grapes open a phony dance studio, posing as a famous teacher … so she can keep the kids busy while he plunders the berry crops, but things don't go as planned. Sour Grapes begin to enjoy teaching Strawberry & Friends and can't bring herself to betray them, much to Pie Man's chagrin.
Big Country Fun - Yee-ha! Strawberry Shortcake and her friends are in for some of the berry best fun in the West! Strawberry and Angel Cake take jobs at the Berry Prairie Dude Ranch and turn out to be excellent little cowgirls! But when the two friends must compete to become "Best Ranch Hand," they lose sight of their responsibilities - and their horseback riding trail! Will they realize that being careful and listening to direction is more important than winning? More challenges gallop in when the Purple Pie Man tries to put Carmel Corn's farm out of business so he can replace it with an amusement park - PieManLand! Hoping to help out, Strawberry and her pals put on a good old-fashioned country fair to earn enough money to keep their berry favorite farm in business.
Length: 135 minutes
SRP: $26.98
About Cookie Jar Group
The Cookie Jar Group is a Canadian-based global children's entertainment and education company dedicated to excellence. Through Cookie Jar Entertainment, we are a leader in the creation, production, marketing and licensing of evergreen character brands that appeal to kids and families worldwide. Our library of nearly 6,000 half-hour episodes features some of the world's most recognizable characters, including "Strawberry Shortcake", "Care Bears", "Caillou", "Inspector Gadget", "The Doodlebops", "Arthur" and "Johnny Test". We also own a one-third interest in international children's television channel Kidsco. Through our pan-European merchandising subsidiary, Copyright Promotions, we are the worldwide licensor or agent for third-party brands such as McDonald's and Mommy and Me. Cookie Jar Education, based in Greensboro, North Carolina, is one of North America's largest providers of supplemental education materials, reaching nearly 2,000 teachers across the United States, through the Carson-Dellosa and HighReach Learning brands.
About American Greetings Corp. (NYSE:AM)
American Greetings Corporation (NYSE: AM) is one of the world's largest manufacturers of social expression products. Along with greeting cards, its product lines include gift wrap, party goods, stationery, calendars, ornaments and electronic greetings. Located in Cleveland, Ohio, American Greetings generates annual revenue of approximately $1.8 billion. For more information on the Company, visit http://corporate.americangreetings.com.
About Twentieth Century Fox Home Entertainment
A recognized global industry leader, Twentieth Century Fox Home Entertainment LLC (TCFHE) is the worldwide marketing, sales and distribution company for all Fox film and television programming on VHS, DVD and Blu-ray Disc (BD) as well as acquisitions and original productions. The company also releases all products around the globe for MGM Home Entertainment. Each year TCFHE introduces hundreds of new and newly enhanced products, which it services to retail outlets -- from mass merchants and warehouse clubs to specialty stores and e-commerce - throughout the world. Twentieth Century Fox Home Entertainment LLC is a subsidiary of Twentieth Century Fox Film Corporation, a News Corporation company.
###