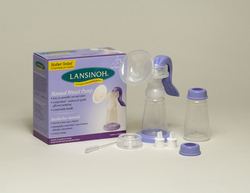 The extent, to which breastfeeding affects a mother's health is rarely emphasized
Alexandria, VA (PRWEB) September 22, 2008
Breastmilk or liquid gold, as many women often refer to it, is one of the most precious, lifelong gifts a mother can give to her newborn baby, however, many mothers are not aware of the health benefits for themselves.
"The extent, to which breastfeeding affects a mother's health is rarely emphasized," says noted pediatrician says noted pediatrician James Sears, M.D., a member of the Lansinoh Breastfeeding Advisory Board (http://www.lansinoh.com)] and co-host of the new nationally syndicated talk show The DOCTORS. as well as co-author of The Baby Book; Everything You Need To Know About Your Baby From Birth To Age Two. While choosing to breastfeed or offering pumped breastmilk gives babies a healthy start in life, it provides a variety of significant health benefits for mothers, as well:
•Lowering the Risk for Certain Cancers:
It is well documented that breastfeeding decreases a woman's risk for developing pre or post-menopausal breast cancer. "This benefit is strongly connected with the length of a woman's breastfeeding experience," explains Dr. Sears. "Two weeks is good, four months is better, and more than six months is best as far as protection against breast cancer is concerned."
Some studies have also shown a decrease in ovarian and uterine cancers. "While breastfeeding full-time, most mothers do not ovulate and do not have menstrual periods, and fewer menstrual cycles means less estrogen exposure, which may explain the reduced cancer risk," says Dr. Sears.
•De-Stressing:
Motherhood can be very stressful. especially in the early months when babies may not be sleeping for long stretches and mom is sleep-deprived. Breastfeeding or pumping breastmilk triggers and releases oxytocin, which can help a woman relax and feel less stressed. Breastfeeding can also help the mother-baby bond, since physical contact helps newborns feel more secure, warm and comforted.
•Shedding Pregnancy Pounds and Other Post-Pregnancy Physical Concerns:
While breastfeeding mothers only need 300 to 500 extra calories a day in order to produce adequate milk, nursing mothers also burn 200 to 500 calories per day, making it easier to lose the pregnancy pounds.
•Saves Money & Time:
When breastfeeding, you don't have to purchase, measure and mix formula and there are no bottles to warm in the middle of the night! Since breastfed babies are generally healthier than formula-fed babies, mothers don't spend as much and money on doctor visits and medicine.
And speaking of money, breastfeeding is free! Even if a baby is fed expressed breastmilk and moms need to purchase a breast pump, the new Lansinoh Manual Breast Pump, Lansinoh Double Electric Breast Pump and feeding accessories are far less expensive than what she would spend on formula over the long term. In fact, research shows the average non-nursing mother can spend close to $2,000 a year on formula and feeding accessories, while a quality electric breast pump, such as the one now offered from Lansinoh, costs under $200.
New and expecting moms can visit http://www.lansinoh.com to register for a chance to win a free Lansinoh Manual Breast Pump or Lansinoh Double Electric Breast Pump
Learn more about Lansinoh breastfeeding products and "where to buy" information
Sign up for [Pre-Natal Nurture Notes™, special e-messages received twice a month during the last trimester that focus on preparing for the baby's birth and breastfeeding, or, the popular Nurture Notes™, e-messages that provide breastfeeding tips, encouragement and support from birth until the baby's first birthday
And coming in October Mom's can join Lansinoh's new Online Community (http://www.lansinohmoms.com) where moms can share their stories about the joys and challenges of early motherhood.
Note to media: For more information about the health benefits of breastfeeding, Lansinoh products or to set up an informative interview with Dr. James Sears, please contact Laura Giardina at (914) 241-0086, ext. 20.
###