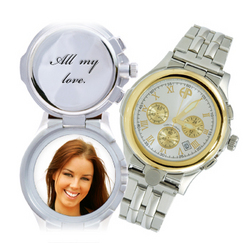 I must get a compliment every single day about the President's Watch. People really notice it. Then, when I open it and show our candidate and his message for change, they just go crazy. It's the neatest watch I've ever owned
Cleveland, OH (PRWEB) September 22, 2008
HourPower's newest timepiece (http://www.hourpowerwatches.com ) is now available for the upcoming election 2008. The President's Watch provides an excellent way to celebrate all important life events, and special, deserving men. Distinctive in its innovative design, this chronograph opens to a secret chamber for viewing an engraving and picture; it is also regal in its presentation of two-tone stainless chronographic technology.
It is now possible to present a gift that is meaningful to the wearer every day, reminding him of his significance or important message--to an event, to an organization, to another person. The handsome gold and silver watch band and oversized round solid stainless steel case offers three polished gold dials for day, date, hour and minutes with an iridescent silver watch face. Luminous hands for night vision along with a polished sweep second hand complete its executive status.
"I must get a compliment every single day about the President's Watch. People really notice it. Then, when I open it and show our candidate and his message for change, they just go crazy. It's the neatest watch I've ever owned," says Mark C. (advance man for presidential race). The watch has a stainless steel door at the back that allows pictures to be interchangeably replaced with great ease in seconds. HourPower offers optional, silver picture disks that are waterproof and permanent.
Jon Voss, newly married, discusses the impact the watch has made on his life--"My bride gave me The President's Watch on our wedding night and I will never forget the feeling I had when I put it on my wrist--loved, committed, honored, important. I'll be wearing this everyday and remembering who we are." Covered by a one-year warranty, these timepieces can be engraved within several business days.
About HourPower Watches
HourPower Watches is a six-year old company that manufactures patented timepieces that open to reveal a hidden chamber. "We believe we have developed a new category of watch design that offers many possibilities to all kinds of customers", says Paul Medvedo, CEO for the company. Our first generation watches provide a uniquely portable and discrete repository for pictures, messages, discs, and discrete medical information. These timepieces offer the functionality of a pocket watch or locket in a modern, wristwatch form. As such, they make the perfect gift for all life events--weddings, corporate promotions, retirement, anniversaries and remembering loved ones.
As a full service watch company, HourPower provides their customers with exactly what they need--whether it is a small order as a self-purchase or gift, or a large account requiring an engraved message inside. They are a corporate partner with the March of Dimes, donating 20% to their charity. For additional information, visit http://www.hourpowerwatches.com.
###