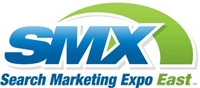 Redding, CT (PRWEB) September 22, 2008
The search marketing community will gather in New York City October 6-8 for Search Marketing Expo - SMX East (http://smxeast.com). SMX East is a comprehensive conference and exposition featuring presentations from nearly 200 leading search marketing authorities specializing in fields such as search engine optimization (SEO), paid search advertising (PPC), link building, keyword analysis and web analytics.
At SMX East, the best minds in internet and search marketing will share their tactics and best practices. Those attending will learn practical tips and techniques that, when implemented, will improve search marketing results, increase traffic from search engines and improve web site return-on-investment (ROI).
SMX East will be held October 6-8 at the Jacob K. Javits Convention Center in New York City .
Speakers at SMX East include a host of representatives from all of the leading search engines, including a keynote by Tim Armstrong, President, Advertising and Commerce, North America and corporate Vice President of Google, Inc.
In-house search marketers on the program are individuals responsible for the marketing some of the world's most admired brands, including the New York Times, Discover Financial Services, MTV Networks, Nokia, Orkin, Siemens and The Wall Street Journal.
The world's leading search marketing agencies and practitioners will be participating as well. They include iProspect, Performics, Reprise Media, Group M Search, Wieden Kennedy, McCann Worldwide and Range Online Media.
See the complete list of topics and speakers at http://searchmarketingexpo.com/east/2008/agenda.
Register Now and Save
Those interested in participating can register online for SMX East for just $1,395 until October 5 and $1,595 at the door. An All Access pass includes sessions, keynotes, networking activities, hot lunches and complimentary WiFi access.
More than 50 search marketing solution providers will participate in SMX East. Expo tickets, which include access to more than 30 sessions in the SMX Theater, are free with online pre-registration and $50 at the door. See the complete list of participating companies at http://searchmarketingexpo.com/east/2008/exhibitors
Register at http://searchmarketingexpo.com/east/2008/register
About SMX East and Third Door Media, Inc.
Search Marketing Expo - SMX East is produced by Third Door Media, Inc. Third Door Media's mission is to empower internet and search marketing professionals by providing trusted content and community services they need to be successful. Other Search Marketing Expo events include SMX West, SMX Advanced, SMX Local & Mobile, SMX Social Media Marketing, SMX Munich, and SMX London. The full list is available at the Search Marketing Expo site.
Third Door Media also publishes the search marketing news and analysis site Search Engine Land, produces Search Marketing Now, a lead-generation marketing solution for suppliers of SEM-related products and services, and Sphinn.com, the place for web, online, search, interactive and internet marketers to share news stories, talk within subject-specific discussion forums, build a network and stay connected to hot topics in internet marketing.
###