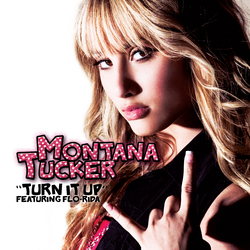 Turn It Up'; a smooth pop dance track, with a hot hip-hop beat.
Hollywood, CA (PRWEB) September 22, 2008
15-year-old pop sensation Montana Tucker is ready to take the world by storm with the release of her new single "Turn It Up", featuring Hip-Hop superstar Flo-Rida, on September 23, 2008. The single will be available on iTunes and other major digital music outlets.
Known as a triple threat artist, Montana Tucker is a talented singer, award-winning hip-hop dancer, and a budding actress. She has already drawn comparisons to superstars like Jennifer Lopez, Shakira, and Beyoncé Knowles. At just the tender age of 15, Montana has performed at sold out tours and arenas, opening up for best-selling artists Ciara, Omarion, Pit Bull, Fabolous, and Lil' Wayne.
Montana Tucker made a splash earlier this year when her hit single "Ain't No Stressin", produced by Stereo, was featured in the motion picture and soundtrack of "Step Up 2: The Streets", which launched Montana into the national spotlight. Following that success, Montana teamed up with the prince of hip-hop Flo-Rida and super producer team the Diaz Brothers (Pitbull, Daddy Yankee) for "Turn It Up'; a smooth pop dance track, with a hot hip-hop beat. "Turn It Up" will be the first single to be released from Montana's forthcoming debut album.
Montana Tucker is eager to describe her excitement about the hot new song: "I'm so excited for "Turn It Up" to be released on iTunes because this is one of those 'feel good' songs that makes you want to get up and dance! I wanted my first single to be a song that all generations would love, and I know "Turn It Up" is that song. I know you will be hearing it not only on the radio, but also at clubs and parties, and even as the 'hype' song at football games, basketball games, and a lot more. Everyone is just going to be 'turning it up!'"
Montana Tucker is set perform "Turn It Up," at Flo-Rida's star-studded birthday celebration at the Cameo Theater in South Beach, Florida on October 5, 2008. This Fall Montana will start pre-production on the feature film "The Jump Off", a dance musical where she will co-star alongside Wayne Brady, Cedric The Entertainer, Drew Seeley, and D. Woods of "Danity Kane." Montana will be featured in Wayne Brady's music video for his single "You and Me," off of his debut CD "A Long Time Coming." Montana Tucker was also selected to be a featured artist on the World Fashion House "Rock Your Fashion," soundtrack and editorial campaign. Editorials and advertisements branded with the pop princess are scheduled for release in spring 2009.
Montana Tucker's "Turn It Up" will be available for download on all digital music portals worldwide starting September 23, 2008, the music video to support the single is expected to be released later this fall
For more information on Montana Tucker and the single "Turn It Up." Please visit: http://www.myspace.com/montanatucker and http://www.montanatucker.com.
Media Contact:
Terrance Gillum
AB&G PR
323-875-6703
terrancegillum @ abgpr.com
###