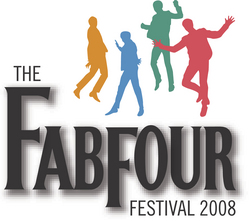 John Lennon Called Me Normal.
Nashville, TN (PRWEB) September 22, 2008
Beatle fans across the country will converge on Music City, October 23 to 25 for three days of concerts, panel discussions and memorabilia displays at the Fab Four Festival 2008. Now in its third year, the festival will be held at The Cannery on historic Cannery Row in downtown Nashville.
Presented by the Richard Courtney Real Estate Group, Rogan Allen Builders and Floyd Shechter/SmartSpace,LLC, the Fab Four Festival music line-up includes the following performances:

Liverpool Legends, the band hand-picked by George Harrison's sister, Louise, to re-create the legendary Fab Four. The band has toured the world and performed in historic locations such as The Cavern Club in Liverpool and Carnegie Hall.
An in-the-round concert featuring four of America's prominent singer/songwriters performing songs from their association with the Beatles. Musicians include: Gary Burr (wrote and performed with Ringo Starr, three-time Songwriter of the Year), Buzz Cason (co-wrote "Solider of Love"), Marshall Crenshaw (played John Lennon in "Beatlemania"), and Joey Molland (Badfinger). Bill Lloyd (Foster & Lloyd, the Long Players) will moderate the set.
The Long Players, performing "Abbey Road." A group of veteran musicians known for their performance of classic concept albums, the core band includes Bill Lloyd (Foster & Lloyd), Steve Allen (20/20), John Deaderick (Dixie Chicks, James Taylor), Steve Ebe (Human Radio), and musician/producer Brad Jones. Guest vocalists to be announced.
FAB, a popular tribute band of seasoned Nashville performers.
The WannaBeatles, a foursome of talented Nashville musicians who perform classic Beatles songs.
Panel discussions include the following topics: The Women Behind the Beatles, Performing and Recording with the Beatles, and Beatles Journalists. Confirmed panelists include musicians, journalists and industry insiders connected to the Beatles:

May Pang, author of "Instamatic Karma" and "Loving John," who was John Lennon's companion in the early 1970s and also his production assistant and coordinator. She received an RIAA Gold Record Award for "Walls and Bridges."
Nancy Lee Andrews, celebrity photographer, author of "A Dose of Rock and Roll" and former fiancé of Ringo Starr.
Gary Burr, guitarist who performed, recorded and co-wrote with Ringo Starr, and was named Songwriter of the Year by Billboard, NSAI and ASCAP.
Louise Harrison, sister of George Harrison and manager of the Liverpool Legends.
Neil Jefferies, ghostwriter of Norman ' Hurricane' Smith's autobiography, "John Lennon Called Me Normal."
Joey Molland of Badfinger, who played on George Harrison's "All Things Must Pass" album, at the "Concert for Bangladesh" in '72 at Madison Square Garden, and on the album that followed. He also played on John Lennon's "Imagine" album.
Kathie Molland, wife of Badfinger's Joey Molland, who attended all Badfinger's concerts and recording sessions, and knew members of the Beatles during their years at Apple Records.
Seth Swirsky, author and songwriter, and documentary filmmaker of "A Year in the Life," featuring interviews with people who knew the Beatles.
Moderators include Chet Flippo, former senior editor of "Rolling Stone" magazine and prolific music industry author; Robert K. Oermann, editor-in-chief of "Country Music" magazine and music industry writer; and Ed Salamon, former president of programming for the Westwood One Radio Network.
"The Nashville Fab Four Festival now ranks as one of the top Beatle events in the country," said Richard Courtney, founder of the festival and this year's event chair. "Nashville is home to a number of world-class musicians who have played on the solo works of Lennon, Harrison, Starr and McCartney. Their involvement with this event, along with the internationally acclaimed Liverpool Legends, fascinating panelists and high-quality memorabilia, has helped us create one of the country's top-selling Beatle fests. And thanks to generous sponsorships, all ticket proceeds benefit the Community Resource Center, one of Nashville's most dedicated non-profit organizations."
Full-day passes to the Fab Four Festival range from $30 to $50. Online ticketing and the latest details on the festival - including the daily schedule, Beatle look-alike contest registration and travel information - can be found at Fab Four Festival.
History of The Fab Four Festival:
Founded by Nashville Realtor and self-professed Beatlemaniac Richard Courtney, the Fab Four Festival began in 2004 in support of The Belcourt Theatre. In 2005, the Festival expanded to a larger venue at the Tennessee Performing Arts Center. Pictures from the festivals can viewed at Richard Courtney's Fab Four Photos.
About the Community Resource Center:
The Community Resource Center (CRC) provides household goods, furniture and appliances to nonprofit agencies and their clients in 20 Middle Tennessee counties. More information can be found at Nashville Community Resource Center.
###