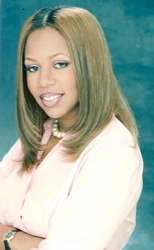 New York, NY (PRWEB) September 22, 2008
Celebrity dentist Dr. Catrise Austin, owner of VIP Smiles and member of the American Academy of Cosmetic Dentistry (AACD), surveyed the hottest Hollywood smiles on the Emmy's red carpet. Dr. Austin is pleased to announce her top 5 picks for "Best A-list Smiles".
And the winners are:
A Smile Fit for an Angel:
Victoria Secrets top model and Host of Bravo's Project Runway, Heidi Klum showcased a stunning sexy smile as the co-host of this year's show.
A Million Dollar Smile:
Ugly Betty's star America Ferrera's smile gives a new meaning to the term "million dollar smile". In 2007, her smile was insured for a whopping $10 million dollars and it certainly showed on the Emmys red carpet.
A Dream Smile:
Hollywood hunk Patrick Dempsey topped Dr. Austin's list for best male celebrity smile.
His Smile's a Hit:
Everything music and fashion mogul Sean "Diddy" Combs touches turns to gold. Combs' smile was certainly a hit as he sported a handsome A-list smile while escorting his number one girl, his mother Janice Combs on the red carpet.
A Smile That Looks Far From Desperate:
Marcia Cross showcased a dazzling white smile along with her smokin' red carpet style. From head to toe she was simply gorgeous.
About Dr. Catrise Austin:
Dedicated to changing lives with a smile, Dr. Catrise Austin is a cosmetic and general dentist that is "Creating Hollywood Smiles from Coast to Coast"! Consistently dubbed one of the most influential women in business, this award winning dentist and current spokesperson for Aquafresh is becoming one of the most well-known and highly regarded dentists nationwide.
This savvy entrepreneur is the architect of VIP Smiles (http://www.vipsmiles.com), a modern dental practice that boasts an impressive loyal following, including some of the warmest smiles in the entertainment industry. She's been a guest expert on television and radio programs across the nation speaking about the importance of dental health, and frequently makes public speaking appearances to spread her message. Dr. Austin is an AACD member cosmetic dentist practicing in New York City and Los Angeles. For patient consultations and a celebrity smile, contact the doctor at 866-377-3123.
###