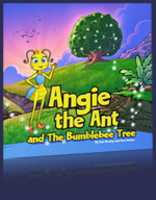 The book is what our readers are looking for. It stimulates ingenuity and education in readers
Charleston, S.C. (PRWEB) September 24, 2008
When Susi Beatty was hit with the idea of creating Angie the Ant (http://www.AngietheAnt.com), she had no clue where it would lead. She was rewarded with her creativity when she received "Creative Toy Awards 2008 Book of the Year in Family Values" from Creative Child magazine for her children's book, Angie the Ant and the Bumblebee Tree.
Creative Child magazine is a national publication striving to provide parents with the most up-to-date information on developing children's creativity. Each year the magazine sponsors a creative award program. Parents and educators judge toys, books, games, CDs and DVDs on their ability to stimulate creativity and educate children. Only one winner is chosen per category by a diverse panel of expert judges. Angie the Ant and the Bumblebee Tree ($19.95 ISBN 0-9773653-0-1.), is the 2008 recipient for children's literature. "The book is what our readers are looking for. It stimulates ingenuity and education in readers," says Scott Reicart from Creative Child magazine.
This picture book features Angie the Ant's quest to save the Bumblebee Tree from the evil Queen Sadina. Angie works with her friends to save the day in a classic tale of good versus evil.
"Children are bombarded by the media to buy into negative images. My books, games and toys are designed to do the opposite - to bring out the best in kids, providing them with clean, wholesome fun!" says the author, Susi Beatty.
"Angie the Ant and the Bumblebee Tree," is beautifully illustrated by Marcela Ribero, and is the first in a series of stories which Beatty and Susi B Marketing are launching nationwide.
Beatty is having a contest to give away a limited edition set, including a numbered and autographed copy of her book and Angie plush toy at http://www.AngietheAnt.com.
Susi has a diverse background and education, spanning from international recording artist, musician, and professional songwriter, to business entrepreneur and real estate investor. Ms. Beatty received her bachelor's degree in Business Administration from the College of Charleston and her master's degree in Clinical Counseling from Webster University.
###