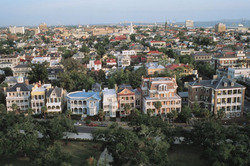 Charleston, SC (PRWEB) September 24, 2008
The First Annual Charleston Home Market will take place October 23-25 at the Navy Yard at Noisette in North Charleston. The much anticipated event, billed as a scaled down version of High Point, North Carolina's International Home Furnishings Market, will feature homegoods and decorative arts designers and craftsmen and their products. Expect to see contemporary furniture, innovative glasswork, lighting, ironwork, ceramics, textiles and more. Visitors can shop the market, meet the designers, and attend lectures and trade demonstrations throughout.
Tuesday features The Upper King Street Design Walk from 5:00 p.m.-8:00 p.m. Design boutiques, home décor shops and select other businesses stay open late, offering the public a chance to shop, socialize and stroll in this district dedicated to design and décor and located in historic downtown Charleston. Complimentary wine and hors d'oeuvres will be served in 20 participating stores. Wednesday is a Trade Day with activities and networking opportunities for industry professionals. On Thursday, a $10 entrance fee includes public access to all lectures and demonstrations with experts in the field from 10:00 a.m.-5:00 p.m. , as well as wine and hors d'oeuvres served at 4:00 p.m.
Noisette is a 3,000 acre city-within-a-city currently being restored as a sustainable community. Located beside the Cooper River, the main tributary of the Charleston Harbor, the Noisette area supports a diverse population in a wide mix of neighborhoods, retail areas, industries, schools, municipal buildings and parks. Riverfront Park, the newest and highest profile of the parks, is located near the historic homes once occupied by the Naval Base Admiral and officers. The National Outdoor Sculpture Competition and Exhibition is installed there and it includes a contemporary Performance Pavilion and Grand Lawn.
ResortQuest offers visitors to Kiawah Island, Seabrook Island, Isle of Palms and Wild Dunes effective ways to save while staying in fully-equipped private homes, villas and cottages. Ask about the exciting new Free Now, Free Later Promotion, offering an opportunity for two free nights in rental properties. The area offers miles of pristine beach, championship golf, tennis, biking, nature tours, shopping, dining, and water-related activities, and historic downtown Charleston is just a short drive away. ResortQuest Privileges offers special rates and discounts from area venues. Call 1-866-253-3633 to find out about special discounts on Kiawah Island, Seabrook Island, Isle of Palms and Wild Dunes vacation rentals.
About ResortQuest
ResortQuest, one of the nation's leading vacation rental and resort real estate companies, provides a one-stop resource in North America's premier resort destinations. ResortQuest Charleston is the largest vacation rental company serving Charleston and the beach resort islands of Kiawah, Seabrook, Isle of Palms, Wild Dunes and Sullivan's Island. ResortQuest has offices located on Kiawah Island, Seabrook Island and Isle of Palms, South Carolina.
###