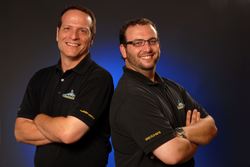 It felt good to help others.
Baltimore, MD (PRWEB) September 23, 2008
For more than 20 years, Chesapeake Closets has been creating exceptional storage solutions for families throughout the Baltimore Metropolitan region. The family-owned business prides itself on its craftsmanship and attention to detail, and has seen every type of project, large and small. Earlier this summer, however, the company accepted perhaps the most unique and rewarding challenge in its history by donating time and expertise to help a family in need as part of the ABC hit TV show, "Extreme Makeover: Home Edition."
The new home that Chesapeake Closets helped create will appear in the season six premiere, scheduled to air Sunday night, Sept. 28th. The premise of the hit show, a winner of consecutive Emmy Awards, is that it selects a family in need and builds them a new dream home in just seven days.
"Being a part of 'Extreme Makeover: Home Edition' was an incredibly rewarding and memorable experience," said Chesapeake Closets Founder and President Steve Black.
Joining a frenzied team of volunteer contractors and builders under the direction of team leader Ty Pennington, Chesapeake Closets completed in just hours a job that would typically require a week. It was all part of the plan by ABC to help single mother Felicia Jackson of Poolesville, Md. and the 14 children, ages 4-18 that she cares for. Jackson was selected as the recipient of a new home due to her heart-wrenching story of struggle and survival.
In 2004, Felicia's sister Cassandra died of cancer, leaving behind 10 children. Felicia promised her sister on her deathbed that she would keep the kids out of the foster system; but had been living in a hotel and was understandably struggling to keep the family together. The family's lives were forever changed when they received the famous "Good Morning" wake-up call from Ty Pennington, informing them that they had been selected to receive a new dream home.
Chesapeake Closets' expertise was put to the test for this family as it needed as much storage as possible for 14 kids in just four bedrooms. The compressed timeline meant that every contractor and volunteer had to speed up delivery to get the job done.
"We have seen our share of challenging situations, but we've never had to do so much in so little time," Black added. "It was hectic and crazy, but we had fun. Most importantly, the new home and storage will help the Jackson family stay together and enjoy their lives."
For those who might wonder if a home can really be torn down, re-designed, re-built and decorated in just a week, Black said the show is 100 percent real.
"What you see on the show is accurate, there is no down time, it's get in and get out," he said. We weren't even able to get in the house to take measurements until the day before the project. It was a little different doing it this way, but it went really well."
The show is famous for helping struggling families and giving them not only a beautiful dream home, but also hope for a better future. "It was nice to give something back, that's why we agreed to do the project," said Chesapeake Closets Vice President, Danny Black. "It felt good to help others."
About Chesapeake Closets:
Founded in 1987 and based in Baltimore, Chesapeake Closets was launched with a vision of creating a new kind of storage and organization company. The company offers a higher level of service and selection and utilizes 3-D computer designs to give customers the most realistic vision of their project before it starts. Chesapeake Closets approaches each project with a fresh eye, superior pricing, and unmatched service in an effort to design a solution that exactly fits the space and the need.
About ABC-TVs Extreme Makeover: Home Edition
"Extreme Makeover: Home Edition," which has won back-to-back Emmy Awards as Best Reality Program (non-competitive), is entering its 6th season on ABC. The program is produced by Endemol USA, a division of Endemol Holding. Anthony Dominici is the executive producer; and David Goldberg is the president of Endemol USA.
###