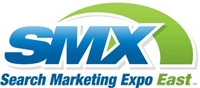 Redding, CT (PRWEB) September 23, 2008
Educating chief marketing officers (CMOs) about the value of search marketing will be the focus of a special session during Search Marketing Expo - SMX East. SMX East will be held at the Jacob K. Javits Convention Center in New York City, October 6-8th.
Entitled "The Ten Truths Every CMO Must Know About Search Marketing," the session offers attendees a chance to hear from a panel of seasoned search marketers from major brands. The session is designed for CMOs and marketing decision-makers and is open to all SMX East attendees. It will take place October 6th at 1:45 p.m.
Search engine marketing firm iProspect is sponsoring the session, and Chris Sherman, Executive Editor of Search Engine Land.com, will moderate. Speakers include:
Willie Fernandez, Director of Marketing, World Travel Holdings
Jennifer Doss, eCommerce Marketing Manager, Hat World & Lids
Jill Nortman, SEO & Web Analytics Specialist, Allegis Group
Jen Miller, Manager, Onsite Content & Marketing, Delta.com
Michelle Stern, Client Services Director, iProspect
"iProspect is really looking forward to our participation as a Premier Plus sponsor of SMX East," said Bill Muller, iProspect's chief marketing officer. "We're thrilled to be able to contribute to the educational value of the event by sponsoring 'The Ten Truths Every CMO Must Know About Search Marketing,' on Monday afternoon. We're also excited about the exposure to key search marketing influencers and decision-makers that the event will provide. This is the first time SMX will be in New York City, and we're proud to associate the iProspect brand with its début in the area."
SMX East will offer more than 80 sessions and presentations by leading search marketing authorities specializing in areas such as search engine optimization (SEO), paid search advertising, link building, keyword analysis, and Web analytics. See the complete list of sessions, presentations, and speakers at http://smxeast.com
Those interested in attending the event can register online for just $1,395 until October 5th for an All-Access Pass, which includes sessions, keynotes, networking activities, hot lunches, and complimentary WiFi access. Registration at the door will be $1,595.
More than 50 search marketing solution providers will exhibit at SMX East. Expo hall tickets, which include access to more than 30 sessions in the SMX Theater and iProspect's "10 Truths" session, are free with online pre-registration, or $50 at the door.
About iProspect
iProspect is the Original® Search Engine Marketing Firm. The company helps many of the world's most successful brands maximize their online marketing ROI through natural search engine optimization, paid inclusion management, pay per click advertising management, shopping feed management, and numerous other related services. By dramatically increasing business results for clients, iProspect helps to create search marketing heroes every day.
With offices in Watertown, Massachusetts, San Francisco, California, and Chicago, Illinois, as well as global search engine marketing offices, iProspect can be contacted at 1-800-522-1152, or by visiting http://www.iprospect.com.
About SMX East and Third Door Media, Inc.
Search Marketing Expo - SMX East is produced by Third Door Media, Inc. Third Door Media's mission is to empower internet and search marketing professionals by providing trusted content and community services they need to be successful. Other Search Marketing Expo events include SMX West, SMX Advanced, SMX Social Media Marketing, SMX Munich, and SMX London. The full list is available at the Search Marketing Expo site.
Third Door Media also publishes the search marketing news and analysis site Search Engine Land, produces Search Marketing Now, a lead-generation marketing solution for suppliers of SEM-related products and services, and Sphinn.com, the place for web, online, search, interactive and internet marketers to share news stories, talk within subject-specific discussion forums, build a network, and stay connected to hot topics in internet marketing.
###