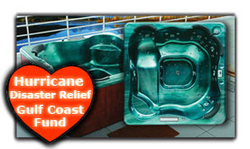 We have many customers that purchase our hot tubs and portable spas in the Gulf Coast Texas area and my words cannot express the sorrow & sympathy we at ChooseHotTubsDirect.com feel for all of the Gulf Coast Texas area families who have lost their loved ones, homes, and priceless possessions due to this uncontrollable natural disaster. Our thoughts and prayers are with the victims
San Francisco, CA (PRWEB) September 23, 2008
ChooseHot TubsDirect.com announced today that it will donate a portion of hot tub spa sales to go directly to the victims of recent Hurricane Ike. Working directly with the Gulf Coast Fund, ChooseDirect ensures that its generous donations will be spent on food, shelter, clothing & other hurricane disaster relief efforts for local families that currently remain without power, access to clean water or basic supplies.
"We have many customers that purchase our hot tubs and portable spas in the Gulf Coast Texas area and my words cannot express the sorrow & sympathy we at ChooseHotTubsDirect.com feel for all of the Gulf Coast Texas area families who have lost their loved ones, homes, and priceless possessions due to this uncontrollable natural disaster. Our thoughts and prayers are with the victims" said Steve Barbarich, CEO of ChooseDirect.com & ChooseHotTubsDirect.com. "I feel a great relief knowing that our donations from Island Escape Spas hot tub sales will help bring the much needed disaster relief assistance to these victims of Hurricane Ike."
For the entire month of October, ChooseHotTubsDirect.com will give $15 from every Paradise Hot Tub Spa sale to help with Hurricane Ike disaster relief efforts & is pleased to be working directly with the Gulf Coast Emergency Response Fund in order to accomplish this charity project. The Gulf Coast Fund provides direct emergency assistance to people in the Gulf Coast area & with sponsorship from The Rockefeller Philanthropy Advisors, over 93% of this money ends up in the hands of the community. You can donate to the Gulf Coast Fund online at http://rockpa.org/special_programs/gulf-coast-fund/ or send donations by check to Rockefeller Philanthropy Advisors, ATTN: The Gulf Coast Fund, 6 W 48th Street, 10th Floor New York, NY 10036.
About ChooseHotTubsDirect.com:
The ChooseDirect factory direct model allows this new & unique company to bring the world high quality products at factory direct pricing. Since this e-commerce online retailer is involved with the product all the way down to the factory level, they cut out many middlemen from the process and are able to offer better prices than the competitors. ChooseHotTubsDirect.com prides itself in having a large selection of hot tubs, portable spa & swim spas products, and with advanced factory coordination, they provide customers with a highly customized premium quality product. For more information about ChooseDirect, ChooseHotTubsDirect.com & for hurricane disaster relief effort updates, please visit the ChooseHotTubsDirect.com Hurricane Disaster Relief Charity Page
About The Gulf Coast Fund:
Created shortly after Hurricanes Katrina and Rita in 2005, the Gulf Coast Fund for Community Renewal and Ecological Health has distributed more than $2 million to over 100 grassroots organizations in Louisiana, Mississippi, Alabama and Texas. Unique among the region's recovery grantmakers, GCF is committed to an open and transparent decision-making process led by the most affected communities themselves. The Gulf Coast Fund is a partner of the Rockefeller Philanthropy Advisors. For information about the Gulf Coast Fund Emergency Response Fund application process and application form, please go to the Gulf Coast Fund.
Gulf Coast Fund Testimonials:
On behalf of all of us who have experienced the wrath of nature from Hurricanes Katrina and Gustav, please allow me to say thank you for opening your hearts to help. After Hurricane Katrina took aim on our community, our lives were changed forever. The process of cleaning up and rebuilding has been long and hard.....projections are that we will be in the recovery phase for up to 10 years. However, had it not been for the generosity of so many people and organizations, we would have never made it this far. To that end, I can only say that you have made a difference to so very many people who have never even met you....but we thank you!
-A Gulf Coast Native
###