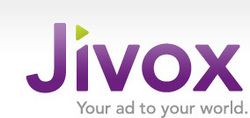 Local Online Media: From Advertising to Action
San Mateo, CA (PRWEB) September 23, 2008
Jivox, the online video advertising service that helps small and medium-sized businesses reach local customers, today announced that it has significantly expanded its publisher network by adding several new web properties including Examiner.com, Accuweather.com, Weatherbug.com, Media News Group and others. The Jivox Publisher Network is the industry's only locally focused network of premium publishers that includes over 600 local TV, radio and newspaper websites across the country. With these new partners, the Jivox Publisher Network now reaches more than 55 million unique visitors.
Local online advertising has emerged as a highly desirable way for small businesses to attract local customers. A recent study by Jupiter Research and the Online Publishers Association (OPA) entitled "Local Online Media: From Advertising to Action" revealed that consumers are more likely to act on the ads they see on local TV, newspaper and magazine sites, in part because they trust advertising on local media sites more than on generic portals. The research also showed that 46% of consumers "took action" after viewing local ads.
"With our fast-growing network of premium local publishers, Jivox is one of the most effective ways for small businesses to reach local customers," said Diaz Nesamoney, founder and CEO of Jivox. "Jivox advertisers can not only precisely target customers in their geographic area, but they are also able to advertise on premium local sites like Accuweather.com even with their typically smaller ad placements."
The Jivox platform makes it easy for online media companies to incorporate video advertising into a site, and most sites can begin serving video ads via the Jivox platform within a few hours of signing up. Jivox publisher partners retain full control over the frequency and types of advertisements that will be shown on their site. Sophisticated targeting algorithms based on geographic, contextual and demographic profiles ensure that visitors see only relevant ads and deliver sufficient click-through rates to provide results for advertisers and publishers.
"We have been working with the Jivox system for over a month now and have outstanding results with it," said Dave Kennedy, Ad Operations Manager, Accuweather.com. "Jivox was easy to set up and run on our sites, and we're sure it has lots of potential for local advertisers as well as major players in the market. And since Jivox ads play in a 300x250 ad position, there is no shortage of opportunity for their ads on our site."
About Jivox:
Jivox helps small businesses reach customers with online video advertising. Jivox provides advertisers with an online, self-service tool to create high-impact video ads using stock footage, images, music or their existing video assets. Jivox ensures high-quality placement of customer ads through the Jivox Publisher Network, a locally focused network of premium publishers that includes hundreds of local TV and radio stations, newspapers, weather and other specialty websites, and offers geographic ad targeting at the city level as well as demographic and contextual targeting. Jivox is a privately held company based in San Mateo, Calif. For more information about Jivox, please visit http://www.jivox.com.
###