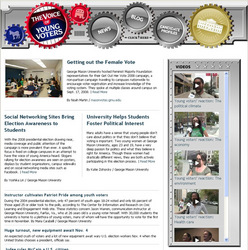 We are very interested in including content from students in this feature page, for which they would receive a UPI byline
WASHINGTON D.C. (PRWEB) September 24, 2008
United Press International launched a new election feature page Friday called The Voice of Young Voters to showcase election issues as they relate to young voters on college campuses throughout the United States. The page offers the best of web 2.0 interactivity and viral engagement that is integral to today's young US voters.
"This page is designed by young voters and for young voters, on a publishing platform congruent with their online practices," said Nicholas Chiaia, UPI President. "This is an opportunity for young voters to share their stories and views on election issues that are important to them." Sonja Eberly, North American coordinator for the UPIU program, explained, "We want young voters to know that their voice and their vote counts."
The intention is to combine the content of UPI's own writers with a variety of student-produced multi media content (video polling, articles, video reports, etc.) in order to present a multi-perspective look into the election and the themes surrounding it. "We are very interested in including content from students in this feature page, for which they would receive a UPI byline," Chiaia said.
Young voters are encouraged to upload stories for consideration to the UPI Voice of Young Voters page by creating their own profile at UPIU.com. UPIU seeks to foster topical conversation among engaged young people with a unique perspective and a passion for reporting. "We want to see and hear your stories, and we want to share them with the world," Chiaia said.
For more information about the Voice of Young Voters website, visit http://www.upi.com/vote , or contact a UPI representative. For inquiries regarding the UPIU program, please contact the office of Nicholas Chiaia at (202) 898-8188.
###