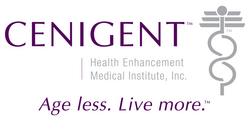 These eight fundamental C.E.N.I.G.E.N.T systems define the infrastructure of our health, and when dysregulated give rise to a variety of age-associated chronic diseases and aging
Santa Monica, CA (PRWEB) September 23, 2008
All systems, whether natural or man-made, simple or complex, have a design with a unique purpose. If the desired end result is achieved, it is safe to say the system is working. The human body, the most elegant, complex, and integrated system of all, is designed to sustain life. Our present-day healthcare system is designed to keep the body healthy. However…
Over 2,000,000 people over the age of 45 die each year in the United States due to diseases that are mostly predictable, preventable, and treatable.
Our healthcare system is not working.
Enter CENIGENT (CENIGENT), a pioneering medical institute in Santa Monica, California which, after five years of Research and Development, has implemented a revolutionary genomic-based "systems approach" to healthcare. Dr. Lida Ghaderi, a board-certified internist with a medical doctorate degree from UC San Diego Medical School and the Founder and Medical Director of CENIGENT, worked for several years in a variety of existing healthcare practice models, including hospitals, urgent care, antiaging, and integrative practices, and served as the Medical director of a large HMO. Dr. Ghaderi found herself extremely dissatisfied with the existing practice of medicine. Namely, far too little time was allowed to build what she calls the "sacred and necessary" doctor/patient relationship, to perform comprehensive health assessments, to educate, and to elicit change. More importantly, Dr. Ghaderi could see the system and our current medical approach wasn't working. Because of the traditional crisis management approach dictated by the constraints of a system governed more by the bottom line of insurance and pharmaceutical companies than by the interests of its patients, and most notably a medical approach that lags behind our scientific advancements, too many people were developing preventable diseases and receiving ineffective treatments.
Dr. Ghaderi left the conventional healthcare system to develop CENIGENT, a new model which, aptly enough is considered a "systems approach" to healthcare. CENIGENT is an acronym for the eight core information containing systems in our bodies.
"These eight fundamental C.E.N.I.G.E.N.T systems define the infrastructure of our health, and when dysregulated give rise to a variety of age-associated chronic diseases and aging," says Dr. Ghaderi.
Never mind the major biological systems we all learned about in elementary school, like the Digestive system and the Circulatory system. Our leading-edge scientific advancements have revealed inter-related substrata that are even more intrinsic to the health of those systems, the organs which comprise them, and our ultimate well-being, healthy aging and longevity.
CENIGENT spells out these systems:

C: Cellular system (metabolic function and mitochondria)
E: Endocrine system (hormones and glands)
N: Nervous system
I: Immune system
G: Genetics (DNA SNPs and mutations)
E: Epigenetics (factors affecting gene expression)
N: Nutrigenomics (nutrition and genomics)
T: Thought system (giving rise to chronic stress)
Unlike the traditional reductionistic medical model which diagnoses disease after the physical symptoms are experienced by the patient, and then prescribes treatments targeted to relieve the end symptoms (not core contributors) with one-size-fits-all drugs and surgical modalities, or both, CENIGENT initially aims to predict and prevent chronic age-related diseases. It also effectively treats the core and the many inter-related causes of diseases and susceptibilities by restoring these eight core systems to optimal health.
"Medical professionals have to be up to date by the hour." Lida Ghaderi, M.D.
The CENIGENT "systems approach" uses comprehensive assessments including 3000 health questions and cutting edge testing modalities, such as genomic SNP testing, 500 cellular biomarkers, and exclusive whole body predictive imaging tests to measure the condition of each of the eight core systems and total health risks. After an initial 100+ hours of assessment and customized research for each patient, Dr. Ghaderi aims to predict unique health risks and which age-related degenerative diseases, such as cardiovascular disease, cancer, dementia, diabetes, etc, a patient may be at risk for due to early measurable cellular changes, his or her unique genetic signature, and environmental factors. She then prescribes personalized preventive therapies and recommendations to restore the systems to optimal health. Dr. Ghaderi also diagnoses and treats existing diseases by creating personalized therapies that address all contributing systems rather than treating end-symptoms of disease.
Furthermore, the CENIGENT model addresses the problem of the nonexistence of a doctor/patient relationship and difficult access in the existing healthcare models by offering a concierge practice. No more than 70 patients a year are seen by one doctor, so ample time is allotted for each patient. Appointments are 1-4 hours long in a non-threatening spa-like ambiance, there is no waiting, same-day appointments are available, and every patient has access to the doctor's cell phone day and night.
The CENIGENT "systems approach" introduces a new model for our healthcare system. It aims to be continuously updated with our scientific advancements and to frontload healthcare by predicting and preventing disease before the emergence of symptoms, as well as to restore compromised core and inter-related systems, personalized to each individual's genetics and epigenetics. Ultimately, such accurate predictions, preventive care and effective personalized therapies will result in the need for far less crisis management and hospitalizations, and in far greater well-being, healthy aging and longevity. It is a system that works. It achieves its goal: optimal health for its patients.
With CENIGENT, All Systems Go!
CENIGENT
###