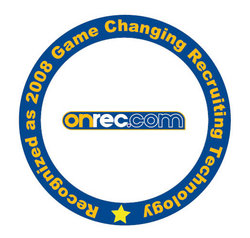 Onrec 2008 Award winners are all leading-edge companies
Atlanta, GA (PRWEB) September 23, 2008
PreVisor, the global leader in employment assessments and selection solutions that connect hiring decisions to business results, announced its PreView™ next-generation computer adaptive testing (CAT) was recognized as a 2008 Game Changing Recruiting Technology by Online Recruitment Magazine at the 2008 Onrec Expo in Chicago.
"Onrec 2008 Award winners are all leading-edge companies," said RD Whitney, CEO of Onrec USA. "We've entered a very exciting phase of the online recruitment industry, and these organizations are to be congratulated for helping propel online recruitment forward."
Computer adaptive testing (CAT) is an administration method that adapts to a candidate's ability level as they proceed through the test by scoring each answer and presenting the next item based on the accuracy of their previous response. There are many benefits to using CAT, including shorter test time, more precise measurement, and reduced risk of cheating. While this form of testing has long been used in education, online delivery - particularly in unproctored settings - is just now beginning to be widely accepted for hiring.
PreVisor CEO Noel Sitzmann explained, "We are committed to driving innovative technology. PreView™ is one example of what we've delivered to our clients this past year. We appreciate the recognition for this fine set of tools from those who report on the talent measurement sector."
Onrec 2008 Recruitment Technologies Award Winners will be featured in a November article in Online Recruitment Magazine.
About PreVisor
PreVisor, the leading global provider of on demand pre-employment assessment software and employee selection solutions, helps organizations by connecting hiring decisions with business results. Following the rigorous standards of industrial-organizational psychology, PreVisor's assessment content accurately predicts on-the-job performance and supports fair hiring practices. PreVisor's solutions help streamline hiring, reduce recruiting and training costs, and improve corporate performance for clients worldwide, including more than 100 of the Fortune 500.
Media contact: Donna Lehman
MarketUP
770-565-7275
dlehman@market-up.com
###