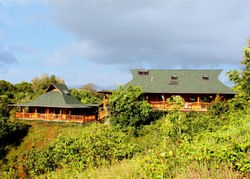 We became interested in building with bamboo in 1995 and furthered the 30 years of research begun by Jules Janssen
Haiku, Hawaii (PRWEB) September 24, 2008
Bamboo Living® Homes, is proud to announce that their exclusive distributor in the United States Virgin Islands, British Virgin Islands and Puerto Rico, Bamboo Island Homes, LLC, will install the first ICC-ES certified bamboo homes on Island. Designed exclusively by Chief Architect, LEED Accredited Professional, and Co-Founder David Sands AIA, this breakthrough represents an alternative building option in the Caribbean that supports a new model of sustainable eco friendly building structures.
"We are excited to work with BLH to offer our clients in the Caribbean alternative construction options while sharing our vision of renewable and sustainable development in the region that compliments their desire to pursue 'green' living," stated E. Anne Wachtmeister, exclusive distributor and CEO of Bamboo Island Homes, Inc.
Bamboo Living Homes Meet Hurricane Code Requirements:
Bamboo Living Homes, the first and only certified bamboo structural system that meets all UBC requirements for residential and commercial structures, has yet another milestone to add to its firsts. BLH's team has collaborated with Bamboo Island Home's local engineers to meet 145 MPH Dade County (FL) wind code requirements in St Croix, United States Virgin Islands. BLH is also currently engaged with local engineers, architects, and builders worldwide. "We have homes in The Cook Islands that have withstood three hurricanes with 173 MPH winds," says David Sands. "After 13 years of working with certifications for special bamboo species, our manufacturing processes and engineering techniques, I am confident of our ability to meet and exceed challenges associated with global warming -- including high winds, earthquakes and CO2 emissions."
Bamboo: The Next Green Building Evolution:
"We became interested in building with bamboo in 1995 and furthered the 30 years of research begun by Jules Janssen," says Jeffree Trudeau, Founder and President of Bamboo Living Homes. "Bamboo has a weight-to-strength ratio that surpasses that of steel. It produces greater biomass and 30% more oxygen than a hardwood forest on the same area, while removing toxins from contaminated soil, preventing erosion, improving watersheds, and providing sweet edible shoots. At our company, bamboo is more than a plant, its way of life."
About Bamboo Living® Homes:
Bamboo Living® Homes is registered trademark of Bamboo Technologies LLC, which began in 1995 as a shared vision to create an environmentally sustainable housing alternative. Vietnam was chosen for BT's first factory because of its history of managing sustainable bamboo forests and fine craftsmanship.
Bamboo Living Homes is the first building manufacturer to offer building code approved custom and prefabricated commercial buildings, houses, studios, pavilions, vacation rentals and gazebos. BLH is a member of the Green Building Council with Accredited LEED Professionals on staff to guide and assist with the LEED process. In addition, our bamboo qualifies as a rapid renewable resource under the LEED program.
About Bamboo Island Homes:
A new model of sustainable design and construction, Bamboo Island Homes, LLC specializes in the exclusive distribution and sale of prefabricated Bamboo homes and structures in The United States Virgin Islands, British Virgin Islands and Puerto Rico. Through an expert infrastructure model of support, BIH assists clients with design construction services and supplies that compliment our clients desire to embrace an authentic green living space.
Email: awachtmeister @ bambooislandhome.com
###