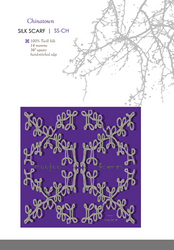 For year-round practicality nothing beats a high-quality scarf to finish out a wardrobe
Washington, DC (Vocus) September 23, 2008
Bright, Brash, and simply Beautiful - moojoo ken, the Washington, DC fashion design house introduces its hot, new collection of 100% silk scarves in 16 mommes twill. "C'est une jolie echarpe et tout le monde doit l'avoir!" "It's a beautiful scarf that everyone must have!" said Farah, the model and the face of Moojoo ken who resides in Paris.
Moojoo ken's classic designs have been spotted in locales far and wide, and now those same elegant, colorful patterns have made their way onto the latest hot, must-have item for 2009. "For year-round practicality nothing beats a high-quality scarf to finish out a wardrobe," says John Mark Anderson, one of the store's three partners. He added, "You can dress anything up with the added flair of moojoo ken's silk squares, and at only $55 each, they work within any budget."
Through the use of modern digital printing processes that accurately transfer unusual patterns and vibrant colors onto silk palettes woven as they were thousands of years ago, moojoo ken fuses high technology and old world handicraft. The hand-woven 90 cm squares feel sensuous and soft against the skin and can be worn in a myriad of stylish ways.
Penn Quarter, Embassy Row, Chinatown and a soon-to-be released new collection design for Winter 2009 are the signature patterns found on these gorgeous accessories. Currently they are only to be seen at the eponymous flagship store at 1512 U Street, NW in our nation's capital.
###