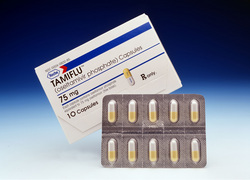 Because Tamiflu prevents the influenza virus from spreading inside the body, it has to be given within the first 48 hours of flu symptoms in order to be effective
Nutley, NJ (PRWEB) September 23, 2008
Roche announced today that ample supplies of its prescription antiviral medication Tamiflu® (oseltamivir phosphate) will be widely available throughout the U.S. this flu season. Tamiflu, cited by the Centers for Disease Control and Prevention (CDC) as an important second line of defense against flu, is indicated for the treatment and prevention of influenza in adults and children one year and older.
To help ensure the medication gets to the pharmacies and people who need it, Roche coordinates a rapid response system with distributors nationwide. Through the program, pharmacists can order additional Tamiflu through a toll-free number (1-800-526-0625) and have it delivered within 24 hours by a local distributor.
"We understand that pharmacists do their best to stock appropriate amounts of antiviral medications, such as Tamiflu, for use during flu season," said Dominick Iacuzio, Ph.D, medical
director at Roche. "However, the incidence and severity of seasonal flu remains unpredictable
from year to year, and some pharmacies still may be faced with greater-than-expected demand during the season."
Roche also created an early signaling system called FluSTAR® and advises pharmacies when flu may be spreading in their local area.
Antiviral medications, such as Tamiflu, are one of three steps (along with vaccination and good hygiene) outlined in the CDC's "Take 3" influenza initiative. Available in a capsule and liquid suspension form, Tamiflu is the only oral antiviral medication recommended by the CDC for influenza treatment and prevention during the 2008-2009 flu season. Unlike the vaccine, which is reformulated each year to work against three specific strains of the virus, Tamiflu is designed to be active against all clinically relevant influenza virus strains.
"Because Tamiflu prevents the influenza virus from spreading inside the body, it has to be given within the first 48 hours of flu symptoms in order to be effective," said Iacuzio. "People need to be aware of typical flu symptoms, and call the doctor quickly as soon as symptoms arise, for proper diagnosis."
While not a substitute for vaccination, prescription antiviral drugs are an important adjunct, offering a second line of defense in preventing and treating seasonal influenza.
Flu Treatment:
If a person does contract the virus, antiviral medications are available by prescription to treat the flu. According to the CDC, "for treatment, influenza antiviral drugs should be started within two days after becoming sick and taken for five days." Tamiflu can reduce flu symptoms and shorten the time of sickness.
Flu Prevention:
Antiviral medications such as Tamiflu can also be given prophylactically to people who have been exposed to influenza to help contain the spread in certain settings, such as family members passing the virus to one another in a household. Preventive doses of Tamiflu following exposure to the flu can also be considered for controlling outbreaks in closed or semi-closed settings, such as nursing homes or dormitories. Clinical trials indicate that Tamiflu is up to 92 percent effective in preventing flu in adults - and 82 percent effective in preventing flu in children - when taken within 48 hours of exposure.
About Tamiflu:
Tamiflu, co-developed by Gilead Sciences, Inc., based in Foster City, CA, is indicated for the treatment of uncomplicated influenza caused by viruses types A and B in patients one year and older who have had flu symptoms for no more than two days. Tamiflu is also indicated for the prevention of influenza in patients one year and older. Tamiflu is not a substitute for annual early vaccination as recommended by the CDC. Prescribers should consider available information on influenza drug susceptibility patterns and treatment effects when deciding whether to use Tamiflu.
In post-marketing experience, rare cases of anaphylaxis and serious skin reactions have been reported. There have been post-marketing reports (mostly from Japan) of self-injury and delirium with the use of Tamiflu in patients with influenza. The reports were primarily among children. The relative contribution of the drug to these events is not known. Patients with influenza should be closely monitored for signs of abnormal behavior throughout the treatment period.
The most frequently reported adverse events in clinical studies were nausea, vomiting, and diarrhea. Tamiflu is available for the treatment of influenza in more than 80 countries worldwide. Prescribing information for Tamiflu is available at http://www.rocheusa.com/products/tamiflu.
About Roche:
Hoffmann-La Roche Inc. (Roche), in Nutley, N.J., is the U.S. pharmaceuticals headquarters of the Roche Group, a leading, global healthcare company. For more than 100 years, Roche has been developing innovative products and services that address prevention, diagnosis and treatment of disease.
For more information, visit http://www.rocheusa.com. Product and treatment information for U.S. healthcare professionals is available at http://www.RocheExchange.com. Prescribing information for Tamiflu is available at http://www.rocheusa.com/products/tamiflu.
###