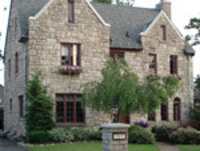 These beautiful new stone configurations offer the look our clients have been asking for
Deer Park, NY (PRWEB) September 24, 2008
FauxPanels.com today announced another addition to their market-leading collection of faux panel™ products. The new Carlton line of simulated masonry paneling includes four designs, each available in various gray, taupe and earth tones.
"These beautiful new stone configurations offer the look our clients have been asking for," says Jeff Perkins, President of Craftsman Homes. "And the colors are distinctive, a bit different from anything else I've seen. Even the brick tones are unique."
Distinctive stone designs in realistic shades:
The Castle Rock design has strong, angular lin es that bring a touch of the medieval castle into the 21st century. Castle Rock is equally at home in a kitchen or spa area, an indoor library or outdoor veranda, to give an impression of quiet strength and stability. Colors of these panels include limestone, marble gray, summer tan, Sierra sand and Dakota blend.
Cobblestone faux panels™ offer a completely different look, with smoothly rounded stones reminiscent of an English village. The design emphasizes warmth and charm, and the rounded lines of the stones are ideal for creating a softer look in practically any space. Cobblestone is available in the same five colors as Castle Rock.
Ledgestone emphasizes rustic rock, handcut, solid and reassuring. It can become a garden wall, fireplace surround or any other feature that needs to look like it's firmly anchored to the earth. Available in the same five colors as the other stone designs, Ledgestone panel is versatile, durable and convincingly real.
Classic brick faux panels™ in new color mixes:
The Brick design features deeply raked mortar joints that make the individual bricks stand out and form a strong, classic bond pattern. Like real brick, these panels are suitable for practically any location indoors or out. The colors include dusted rouge, rich brown and a distinctive multicolor mix of rouge and brown tones called bordeaux.
Like all the products offered by FauxPanels.com, the new Carlton line of products is made of durable, lightweight polyurethane, molded and finished in meticulous detail to look exactly like real masonry. But unlike real masonry, faux panels™ are easy for the homeowner or remodeler to install, cost less than real stone or brick and don't require massive supports and foundations. Faux panel products can be used indoors or outdoors and are naturally resistant to moisture, sun fading, insects and pests.
The new Carlton line is available now at FauxPanels.com along with our other product lines, including Oxford panels, Regency panels, Windsor panels, Nailon siding and Majesty columns.
About FauxPanels.com:
FauxPanels leads the industry with the most realistic faux brick, stone and wood paneling, siding and column products on the market. It is a subsidiary of Barron Designs Inc., a family business dedicated to the home improvement industry since 1972. For more information, visit FauxPanels.com.
###