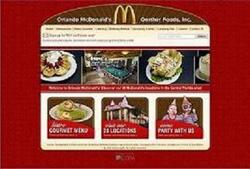 Winter Park, FL (PRWEB) September 23, 2008
.Com Marketing, an interactive advertising agency that offers web design services, announces their recent 'Standard of Excellence' award from the Web Marketing Association. The Web Marketing Association was founded in 1997 to help online marketers improve the quality of website promotion, online advertising and Internet marketing.
.Com designed the winning site, http://www.mcfun.com, for a group of McDonald's Restaurants in the Orlando area owned and operated by Oerther Foods and the award was won in the food industry category. The site was judged on seven different criteria: design, innovation, content, technology, interactivity, copywriting and ease of use. The site's scores exceeded the average of all other winners in six of the seven categories. Each site was judged by two to five judges to ensure fairness in judging.
The site included a flash application featuring some of the unique offerings of the Oerther McDonalds, a party reservations system, information on their Bistro Gourmet menus and Google map locations.
"We're so proud and pleased that our account manager, Jaime Grassian, and our web development team were recognized for their hard work and dedication to their client. The site highlights the uniqueness of the Orlando area McDonald's Restaurants and the project was a fun one for our company. Our judges' comments were very positive and they said they enjoyed the information integration throughout the site as well as the unique party planning functionality," said Sharon Swendner, President of .Com Marketing.
Founded by CEO Hillary Bressler in 1997, the company offers online marketing services in addition to website design and development. Other services offered also include marketing strategy and planning, email marketing, blog marketing, search engine marketing and optimization, and pay per click campaigns.
The Orlando online marketing company is ranked among the nation's top 100 interactive marketing and advertising agencies by Ad Age's Annual Interactive Agency Report. In addition to the Orlando area Oerther Foods McDonald's Restaurants, .Com Marketing has designed and marketed web sites for companies like MP3.com, Nestle Foods, Marriott & Renaissance Offshore Resorts, Marriott Vacation Club International, Tribune Interactive and Universal Orlando.
"We've been incredibly pleased with the work done by .Com Marketing for our site. We knew the site was awesome the first time we saw it and we have been receiving overwhelming positive feedback from our customers. We're really proud that they've been given this recognition for their hard work on our behalf and we know that we can count on them for any future request we throw their way," said Erin Kendrick, Vice President of Marketing for Oerther Foods.
About .Com Marketing:
.Com Marketing is a top 100 full-service interactive marketing and advertising agency specializing in a variety of online marketing services including search engine optimization, email marketing, optimized press releases, professional web design, blog marketing and more. The Orlando-based agency has been providing innovative online marketing solutions to a wide base of clients since 1997.
###