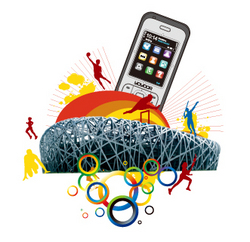 The Yoyoor customer service reps in China who I spoke to on the phone were a lot of help
Beijing, China (PRWEB) September 23, 2008
Yoyoor (http://www.yoyoor.com), the smart mobile phone rental and travel assistance service company for English speakers, recently saw a spike in rental phone package subscriptions during the Beijing 2008 Olympics. Yoyoor's rental services meet the diverse requirements of different travelers to China.
With accommodation tight for the Olympics, TripPal (the smartphone package from Yoyoor) renters made use of the lodging and restaurant listings that the phone offers. Also useful was the GPS navigation, which Olympics attendees used to travel between downtown Beijing and the Olympic venues, as well as for visiting Beijing's many non-Olympic attractions. Subscribers also took advantage of the inexpensive long-distance call rates and call forwarding function to maintain contact with friends and colleagues back home.
Yoyoor's most well-received feature was its bilingual call center, which subscribers used to call with any questions they had about the Games, plus any other issues they had while traveling in China. "The Yoyoor customer service reps in China who I spoke to on the phone were a lot of help," said Yoyoor subscriber Matt Courtney. "I wish Yoyoor offered their services all over the world because I would use it every time I travel."
The new EZphone service is Yoyoor's newest of the three mobile packages, attracting both long-term visitors to China as well as budget travelers because this service feature has no daily rental fees. Regardless of which of the three products customers subscribed to, Yoyoor ensured they had a more enjoyable, hands-on and hassle-free trip to Beijing for the 2008 Olympics.
About Yoyoor
Founded in 2007, as a U.S. corporation with branch offices located in major cities in China, Yoyoor Inc. is a leading provider of travel assistance services to foreign visitors in China.
For further information, please visit http://www.yoyoor.com/.
Or call 866-310-9696 (USA), 400-672-9696 (China).
###