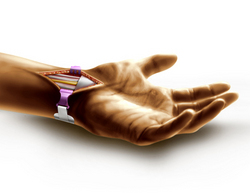 The product is ideal for this kind of surgery, offering fantastic, unhindered access.
Irvine, CA (PRWEB) September 24, 2008
Insightra Medical today announced the latest expansion of its range of novel surgical retractors known as ReeTrakt. These innovative devices have been designed to offer ultra low profile, unobtrusive retraction to improve surgical access.
In January 2008 they launched the first product aimed at A-V fistula repair for dialysis patients. The arm contouring sticky base and ultra low profile retraction strap gives excellent surgical visualization and instrument approach.
Prof Lo Monte and Prof Amato of the University of Palermo, Department of general surgery and organ transplantation describe their clinical experience stating: "The ReeTrakt™ system is a very simple and useful disposable retractor for AV-fistula procedures. Its ultra low profile allows a much improved view of the operating field, an unhindered insertion of the surgical instruments and a shortening of intervention time, avoiding the typical problems which arise as a result of retractors during this kind of procedure."
Between October 12th and 16th 2008 ReeTrakt will be showcased to general surgeons at the annual meeting of the American College of Surgeons (ACS) in San Francisco California. Demonstrations of the unique system will be given at the booth.
The line expansion of ReeTrakt opens up hundreds of new procedures through the introduction of larger tips and specialist tips. Now launched are the medium and large PAW tips for surgeries such as: Radial artery harvest, hernia repair, saphenous vein harvest, vascular procedures, hand surgery, thyroidectomy and other head and neck surgeries.
At the same time the company has introduced their first range of specialist hook tips (blunt and sharp 5mm) which have been optimised for female genital prolapse surgery, TVT surgery and plastic surgery. These hook tips are designed to minimise tissue crushing by penetrating through the tissue. Dr Mark Slack of Addenbrooke's Hospital, UK, has so far used the devices in female genital prolapse, saying "The product is ideal for this kind of surgery, offering fantastic, unhindered access."
Colorectal surgeons are also evaluating the retractors for anal surgery.
ReeTrakt was born from the collaboration between Insightra Medical and Nanyang Technological University of Singapore (NTU) and highlights the success of collaboration between Universities and industry in developing exciting new medical devices.
ReeTrakt is available in all Global regions through the Insightra Distribution Network.
For more details visit http://www.reetrakt.com
About Insightra Medical Inc
Based in Irvine California, Insightra Medical is focused on rapid innovation in the field of medical devices. They have products in the field or general surgery, cardiology, cardiac surgery, plastics, gynecology and other specialities.
###