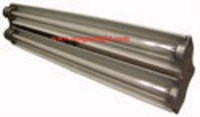 While our vehicle mounted lights are associated with cable, telephone and electric utilities and our HML-5M is the Escalation of Force military spotlight given to every deployed soldier in Iraq, we now have the largest selection of handheld rechargeable flashlights and lanterns for Class, Division 1 and Class 1 Division II hazardous location areas
(PRWEB) September 24, 2008
Larson Electronics LLC (http://www.magnalight.com), a manufacturer and supplier of industrial grade lights to the military, utility companies, refineries and manufacturers announced the addition of new explosion proof lights. The new explosion proof lights include battery operated LED flashlights, 400 watt metal halide tank inspection lights and fluorescent lights for paint spray booths.
Hazardous locations lights are necessary wherever flammable vapors and dusts are present. While there are different safety levels mandated by OSHA, magnalight.com offers a one stop shop experience for companies operating in mining, petrochemical, oilfield, aerospace, paint spray booth and manufacturing space. Ranging from the quadpod based EPL-24C series, that covers 22,000 square feet per fixture, to high output fluorescents lights found in the EPL-48 series, Larson Electronics, web based http://www.magnalight.com offers a wide range of intrinsically safe flood lights.
"While our vehicle mounted lights are associated with cable, telephone and electric utilities and our HML-5M is the Escalation of Force military spotlight given to every deployed soldier in Iraq, we now have the largest selection of handheld rechargeable flashlights and lanterns for Class, Division 1 and Class 1 Division II hazardous location areas," said Rob Bresnahan, President of Larson Electronics. "We have the traditional incandescent explosion proof drop lights, but we also offer intrinsically safe LED flashlights, explosion proof High Intensity Discharge flashlights, Class 1 Division II LED spotlights and corded 26 watt fluorescent hand lamps. We also have intrinsically safe headlights, flashlights and LED emitters that run on common alkaline batteries. In short, when it comes to handheld intrinsically safe lighting, we have an option for every application."
"However, we know that environmental companies, oilfield operations and paint spray booth operators need larger explosion proof lights. We continue to add new explosion proof lights every day to meet their needs. Our explosion proof fluorescent lights are ideal for paint booths, inspections and other flood light operations. Our EPL-24C tanks lights produce more than 70,000 lumens and cover 22,000 square feet, which makes them ideal for cleaning and blasting fuel tanks and vessels. We have even adapted them so they can fit through common 18 inch and 24 inch man way access points into tanks and vessels. Our EPL-TP-2X70 series offers 2 waterproof, Class 1 Division 1 metal halide lights on a quadpod stand, covering 26,000 square foot of area. This explosion proof floodlight is popular with shipyards and oil rigs."
"Just last week, we added and explosion proof right angle light that can be clipped to a jacket, vest or helmet, enabling the operator hands free lighting as an alternative to our explosion proof headlight. We have a new intrinsically safe LED flashlight, EXP-LED-F4W, that is under $30 and puts out a tight beam reaching more than 100 feet. We even added explosion proof ventilation fans, the EPF-30P, that pull contaminated and stale air out of confined spaces. Customers that need explosion proof lights also need explosion proof ventilation fans. You combine that with our deep offering of remote controlled spotlights and now our new High Intensity Discharge Golight remote spotlight models, like the GL-3049H-M, popular for oilfield security, and you can see our 'one-stop' strategy really beginning to shape," Rob concluded.
You can learn more about Larson Electronics LLC at http://www.magnalight.com or 1-800-369-6671.
Contact
Rob Bresnahan
1-800-369-6671
rb @ magnalight.com
###