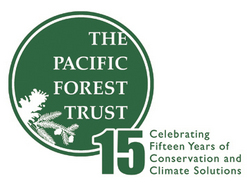 Land Conservation in an Era of Climate Change.
San Francisco, Calif. (PRWEB) September 24, 2008
Laurie A. Wayburn, co-founder and president of the Pacific Forest Trust (PFT) was announced as the winner of the prestigious Kingsbury Browne Conservation Leadership Award, presented by Land Trust Alliance at the National Land Conservation Conference "Rally" dinner held in Pittsburgh Friday, September 19.
In conjunction with the award, Wayburn was named as the third Kingsbury Browne Fellow at the Lincoln Institute of Land Policy, a think tank based in Cambridge, Mass. The fellowship will run for one year beginning this fall.
"I'm deeply honored that the work of the Pacific Forest Trust has been recognized with this award named for Kingsbury Browne. He shared our pioneering vision for sustainable forest and land use policy and our concerns about conservation and climate change. He also recognized the important role forests must play as part of a global warming solution," Wayburn says. "I am proud to be part of a network of land conservation leaders who are carrying on his legacy."
The award and fellowship are named after Boston attorney and land conservation pioneer Kingsbury Browne (1922-2005), who is considered the father of America's modern land trust movement.
Wayburn was selected for the award and fellowship in recognition of her service as a leading advocate for the significant climate benefits of forests. The Pacific Forest Trust, the organization Wayburn co-founded and leads with PFT Managing Director Connie Best, is the only U.S. non-profit dedicated exclusively to promoting the conservation and stewardship of America's private forestlands, with a key focus on climate stabilization. They have been leaders in the creation of market incentives for landowners to protect and enhance their forests' ability to remove greenhouse gases from the atmosphere.
The Kingsbury Browne Award marks the second time Wayburn has been lauded for her climate work this year; in June she was named one of the 2008 James Irvine Foundation Leadership Award winners for her work with forests and climate.
"Laurie Wayburn has been a policy innovator for a long time. When California created a global warming policy, it was Laurie who got the state to make forests part of the equation," said Russ Shay, Director of Public Policy at the Land Trust Alliance. "While others were simply thinking about carbon credits, Laurie and her team were designing a credible, state-adopted system for measuring and selling emissions reductions from forests that is now considered a model for others to emulate."
Today, Wayburn is leading PFT policy work at the state, regional and national level to ensure forests' climate benefits are preserved and enhanced as regulators and legislators come up with comprehensive plans to combat global warming.
Wayburn's selection for the award is especially meaningful because she and Browne shared a concern about climate change long before the issue gained prominence in the land trust community. The two were part of a four-person panel in a 1998 workshop on "Land Conservation in an Era of Climate Change." The workshop presented a primer on global warming and its possible mitigation and then discussed strategies for land trust professionals to respond -- something Wayburn and PFT pursued as a top priority.
"We recognized that deforestation is the second largest source of greenhouse gas emissions globally," Wayburn says. "It was clear then, as now, that it's critical to conserve the forests we have and mitigate for what we've lost if we want to effectively address global warming."
Wayburn has more than 25 years of experience in the conservation and sustainability fields, and has led state, regional, and national efforts to enact climate change policies that unite conservation and management with market-based incentives to reduce carbon dioxide emissions. She is the co-author of America's Private Forests: Status and Stewardship (Island Press 2001).
Kingsbury Browne is credited as one of the founders of America's land trust movement, now a network of more than 1500 land trusts operating throughout the US, protecting more than 35 million acres. In 1980, as a fellow at the Lincoln Institute of Land Policy, Browne first envisioned this network and convened conservation leaders at the Institute, a gathering that ultimately led to the formation of the Land Trust Alliance, formed in 1982. Today the Land Trust Alliance works to strengthen land conservation by advocating favorable tax policies, training land trusts in best practices, and working to ensure the permanence of conservation in the face of continuing threats.
About The Pacific Forest Trust
The Pacific Forest Trust (PFT) is celebrating its 15th year as the nation's leading non-profit organization dedicated to sustaining America's vital working forests for all their public benefits - wood, water, wildlife and a well-balanced climate. In California, PFT has been instrumental in advancing the role of forests in the state's climate change programs including the development of the Forest Protocols. Nationally, PFT has published two landmark reports: "America's Private Forests: Status and Stewardship" (Island Press 2001) and "Forest Carbon in the United States." Through its Working Forests, Winning Climate initiative, PFT is advising state governments and federal leaders about the inclusion of forest conservation and sustainable management in climate policies, markets and best-practices. To learn more about the Pacific Forest Trust, please visit: http://www.PacificForest.org.
###