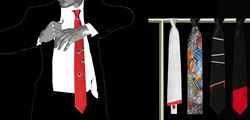 Tai one on, bringing hip to the neckwear industry
New York, NY (Vocus) September 24, 2008
Tais-ties was founded in 2008 in New York and recently launched its first collection. With names like "Bill Killed", "Dirty Business" and "Pinky", the brand follows a strong dark and edgy design language.
JCReport describes the brand as "Tai one on, bringing hip to the neckwear industry" (http://www.jcreport.com/intelligence/talent )
Tais-ties admits that its products are different, maybe even slightly disturbing: "If you don't want to catch attention, you shouldn't wear them!"
Tais-ties are hand made in Milan from Italian silk, hand-stitched in Manhattan, NYC, and shipped in a 15" wooden gift box. Prices are $150 and above, Products available via their store http://www.tais-ties.com.
For more information visit http://www.tais-ties.com.
###