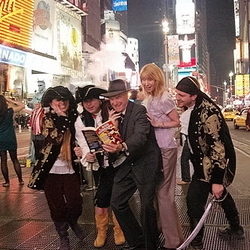 In 1936, Mr. Hubbard, one of the most popular writers of the time, also became president of the New York Chapter of the Fiction Guild whose membership included Lester
New York, NY (PRWEB) September 24, 2008
The financial market had collapsed, war was an ever-present threat, unemployment was at an all-time high, and the U.S. government had just initiated the largest private sector bailout in history. The time was the 1930s, and 30 million Americans (one fourth of the entire U.S. population) turned to pulp fiction written by such masters as L. Ron Hubbard, Isaac Asimov and Raymond Chandler.
Will literary history repeat itself?
The answer would be a resounding "yes" after this past weekend in Central Park where thousands of "New York Is Book Country" Fair attendees clamored for the release of the first five titles of an 80-novel pulp fiction book and audio series, L. Ron Hubbard's Stories from the Golden Age (Galaxy Press, 2008).
Fair attendees were also treated to a live theatrical reading of Hubbard's "The Last Drop," a 1940 fantasy tale set in Manhattan and performed before a standing-room-only crowd in the Fair's authors' pavilion. "This was a great reading," said Frank O'Casio, a bookseller from the Borders Columbus Circle store. "It was a lot of fun and I didn't realize how much I enjoyed Hubbard's style of writing."
Hubbard knew New York very well, according to Hollywood based publisher Galaxy Press. "In 1936, Mr. Hubbard, one of the most popular writers of the time, also became president of the New York Chapter of the Fiction Guild whose membership included Lester "Doc Savage" Dent, Walter "The Shadow" Gibson and the legendary Dashiell Hammett."
And it was a young Isaac Asimov who counted himself among Hubbard's many fans. In a letter to a pulp fiction editor he stated, "Just to show you how good an author I consider Hubbard, ...I consider anything below perfect a let-down. I eagerly await ... as many more yarns as Hubbard can write."
Series' publisher Galaxy Press also has held successful launch events in Philadelphia's 30th Street Train Station Faber Bookstore and in San Francisco's Variety Club in the Embarcadero district with its own standing-room-only turnout for an L. Ron Hubbard story reading.
For more information on L. Ron Hubbard fiction or Stories from the Golden Age, go to http://www.goldenagestories.com.
###