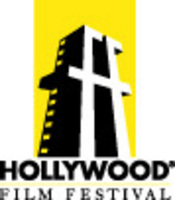 Hollywood, CA (PRWEB) September 24, 2008
The 12th Annual Hollywood Film Festival and Hollywood Awards, co-chaired by Paul Haggis and presented by Starz, have announced that producers Christopher Nolan, Charles Roven and Emma Thomas will be honored with the "Hollywood Producers of the Year Award," and Academy Award-winning screenwriter John Patrick Shanley will receive the "Hollywood Screenwriter of the Year Award" at the festival's Hollywood Awards Gala Ceremony.
The gala ceremony will take place at the Beverly Hilton Hotel in Beverly Hills on October 27, 2008.
The announcement was made today by Carlos de Abreu, Founder and Executive Director of the Hollywood Film Festival. "It is a great pleasure to recognize the extraordinary talent of Christopher Nolan, Charles Roven, Emma Thomas and John Patrick Shanley," said Mr. de Abreu, "and to honor their remarkable achievements and contributions to filmmaking."
About Christopher Nolan, Charles Roven & Emma Thomas:
Christopher Nolan, Charles Roven and Emma Thomas are the producers of this year's acclaimed and extraordinarily successful Warner Bros. Pictures blockbuster "The Dark Knight," starring Christian Bale, Michael Caine, Heath Ledger, Gary Oldman, Aaron Eckhart, Maggie Gyllenhaal and Morgan Freeman. Christopher Nolan directed "The Dark Knight," and also shares screenwriting credit with his brother Jonathan Nolan, and story credit with David S. Goyer. To date, "The Dark Knight" has grossed more than $970 million worldwide.
Christopher Nolan:
Christopher Nolan began making movies at an early age with his father's Super-8mm camera. While studying English Literature at University College London, he shot 16mm films at UCL's film society, learning the guerrilla film techniques he would later use to make his first feature, "Following," a "no-budget" noir thriller that enjoyed great success at a number of international film festivals prior to being released theatrically in the U.S.
Nolan's second film was the low-budget independent feature "Memento," starring Guy Pearce, Carrie-Anne Moss and Joe Pantoliano, which Nolan directed from his own screenplay, based on a short story by his brother Jonathan. The film brought Nolan numerous honors, including Academy and Golden Globe Award nominations for Best Original Screenplay, two Independent Spirit Awards for Best Director and Best Screenplay, and a Directors Guild of America Award nomination. Nolan followed "Memento" with the critically acclaimed psychological thriller "Insomnia," starring Academy Award winners Al Pacino, Robin Williams and Hilary Swank. For that film, Nolan won the London Critics Circle Award for Best Director of the Year.
In 2005, Nolan co-wrote and directed the blockbuster "Batman Begins," starring Christian Bale, Michael Caine, Liam Neeson, Gary Oldman and Morgan Freeman. More recently, he directed, co-wrote and produced the mystery thriller "The Prestige," starring Hugh Jackman, Christian Bale, Scarlett Johansson and Michael Caine. Writer/director Christopher Nolan and his wife producer Emma Thomas are currently developing "The Prisoner," based on the BBC show of the 1960s.
Charles Roven:
Distinguished by almost three decades as a producer, Charles Roven is co-founder of Atlas Entertainment and its affiliated company, ACE Media. Roven has developed unique expertise in producing tentpole films, as well as critically-acclaimed independent films. He has built a reputation of creative collaboration and innovation, garnering international acclaim for his slate of films, which have generated billions of dollars in revenues. In 2008, Charles Roven was honored with the ShoWest Producer of the Year award for his prolific contributions to the film industry.
Roven is the force behind two of the summer's biggest films: Warner Bros. Pictures' critically acclaimed "The Dark Knight" and the comedy blockbuster "Get Smart," inspired by the hit TV show, directed by Peter Segal and starring Steve Carell, Anne Hathaway, Dwayne Johnson, Terence Stamp, and Alan Arkin. Earlier this year, Roven also produced the Lionsgate film "The Bank Job," starring Jason Statham and Saffron Burrows, and directed by Roger Donaldson, which opened number one in the UK box office and is one of the best reviewed movies of 2008.
Roven is currently in post production on Sony Pictures' "The International," starring Clive Owen and Naomi Watts, and directed by Tom Tykwer, which will be released in February 2009.
In pre-production for Roven is Relativity Media and Atlas Entertainment's supernatural thriller "Season of the Witch" starring Nicolas Cage and to be directed by Dominic Sena. Production will commence in November 2008.
Charles Roven's additional credits include "Batman Begins," the predecessor to "The Dark Knight," which had a worldwide gross of over $370 million. Directed by Christopher Nolan, it featured an all-star cast, including Christian Bale, Michael Caine, Katie Holmes, Liam Neeson, Morgan Freeman, Gary Oldman, and Ken Watanabe. Roven also produced Universal/HBO Film's musical "Idlewild," directed by Bryan Barber and starring Andre Benjamin and Antwan Patton, and "The Brothers Grimm," directed by Terry Gilliam and starring Matt Damon and Heath Ledger. Previously, Roven produced the $275 million-plus worldwide box office hit "Scooby-Doo," as well as the sequel, "Scooby-Doo 2: Monsters Unleashed."
After a successful career as a talent manager, Roven segued into producing on such films as "Final Analysis," the Oscar-nominated "Twelve Monkeys," "Fallen," the $200 million fantasy romance "City of Angels," and the highly acclaimed post-Gulf War tale "Three Kings."
Emma Thomas:
Emma Thomas is the producer behind such thought-provoking indie hits as "Following" and "Memento," as well as several major motion picture releases, including the blockbuster "Batman Begins." More recently, Thomas produced the critically acclaimed drama "The Prestige," directed by her husband Christopher Nolan. Hugh Jackman, Christian Bale, Scarlett Johansson and Michael Caine star in the story about an intense rivalry between magicians who become obsessed with outdoing each other. The film earned two Oscar nominations, for art direction and cinematography. Thomas and Christopher Nolan are currently developing "The Prisoner", based on the BBC show of the 1960s.
Thomas studied at the prestigious University College London before beginning her career at Working Title Films in London, where she worked in physical production for five years. While at Working Title, she gained a solid foundation in film production, which served her well as she segued into producing. The independent feature "Following" was the turning point for her career, marking her first film as a producer. The film, which was shot on a shoestring budget, went on to gain recognition at film festivals around the world and received international distribution.
Thomas next served as an associate producer on the internationally acclaimed independent hit "Memento." The film went on to win a number of awards, including an Independent Spirit Award, a British Independent Film Award, and several critics groups' awards for Best Film. Continuing her success, Thomas co-produced her first major studio release, the hit thriller "Insomnia," starring Al Pacino, Robin Williams and Hilary Swank.
In 2005, Thomas produced "Batman Begins," starring Christian Bale, Michael Caine, Liam Neeson, Gary Oldman and Morgan Freeman, under the direction of Christopher Nolan. The film earned praise from both critics and audiences for its bold reimaging of the Batman film franchise, setting the stage for "The Dark Knight."
About John Patrick Shanley:
An Academy Award-winning screenwriter, John Patrick Shanley most recently wrote and directed the feature film "Doubt," a drama starring Meryl Streep, Philip Seymour Hoffman and Amy Adams. Adapted by Shanley from his stage play "Doubt," the film is scheduled for release in December from Miramax.
Shanley's writing career spans twenty years and includes his Oscar-winning screenplay for the 1987 hit "Moonstruck," directed by Norman Jewison and starring Cher, Nicolas Cage, Danny Aiello, and Olympia Dukakis.
Shanley's other feature credits as a writer include Frank Marshall's "Congo," based on Michael Crichton's novel; "We're Back! A Dinosaur's Story"; Frank Marshall's "Alive," based on Piers Paul Read's book; "Joe vs. the Volcano," starring Tom Hanks and Meg Ryan; and Pat O'Connor's "The January Man," starring Kevin Kline, Susan Sarandon, Mary Elizabeth Mastrantonio, Harvey Keitel, Danny Aiello and Rod Steiger. In television, Shanley received an Emmy nomination for his work on HBO's 2002 movie "Live from Baghdad," directed by Mick Jackson and starring Michael Keaton and Helena Bonham Carter.
About the Hollywood Film Festival & Hollywood Awards
The 12th Annual Hollywood Film Festival®, presented by Starz, will mark its return on October 22, 2008, to the state-of-the-art ArcLight Theatres in Hollywood for a weeklong series of screenings, seminars, competitions, awards and a special presentation of "Genre Cinema"
The festival and awards presenter is Starz Entertainment, LLC, a premium movie service provider operating in the United States. It offers 16 movie channels including the flagship Starz® and Encore® brands with approximately 17 million and 31.3 million subscribers respectively. Starz Entertainment airs more than 1,000 movies per month across its pay TV channels and offers advanced services including Starz HD, Encore HD, Starz On Demand, Encore On Demand, MoviePlex On Demand, Starz HD On Demand, Encore HD On Demand, MoviePlex HD On Demand, and Starz Play. Starz Entertainment (http://www.starz.com) is an operating unit of Starz, LLC, which is a controlled subsidiary of Liberty Media Corporation, and is attributed to Liberty Entertainment Group (NASDAQ: LMDIA), a tracking stock group of Liberty Media Corporation.
For more information please go to http://www.hollywoodfestival.com.
Festival Contact: 1.310.288.1882
Hollywood Film Festival®
433 N. Camden Drive, Suite 600
Beverly Hills, CA 90210
Info @ hollywoodnetwork.com
###