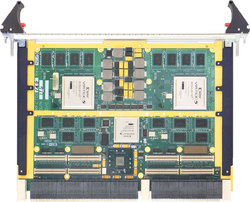 Houston, TX (PRWEB) September 25, 2008
VMETRO, a leader in embedded computing solutions based on standards such as VXS, VPX, XMC and FMC that utilize multi-gigabit serial interconnects, today announced the availability of the industry's largest capacity 6U VPX buffer memory board. The MFC700 is a 6U VPX-REDI buffer memory node with support for up to 16GB of memory on the baseboard, dual XMC mezzanine sites and support for Serial RapidIO™ (sRIO) fabric. Designed for applications that buffer large amount of high-speed data, the MFC700 can be utilized in signal and image processing applications, as well as data recording subsystems. Uses of buffer memory include high-speed temporary storage, interleaving, data aggregation and warehousing or the need for additional system memory through a fabric.
The MFC700 supports up to 32GB DDR2 SDRAM memory in a single slot with 4-16GB on the MFC700 and two 2-8GB on VMETRO MM-6171 buffer memory node XMC modules. The board supports four x4 high-speed Serial RapidIO links to the VPX P1 connector via an 8-port Serial RapidIO switch and additional I/Os to the backplane. Dual Xilinx® Virtex®-5 FPGAs serve as the memory controllers for the DDR2 SDRAM with ECC memory. The MFC700 provides additional RocketIO™ connections between FPGAs and the backplane to give developers flexibility and performance in their data movement. The MPC700 also includes advanced, corner-turning DMA engines which are especially useful in matrix transposition, where converting from columns to rows can eliminate significant processor overhead.
In addition to supporting high-throughput backplane I/O, data may be brought into the MFC700 via onboard XMC sites. With dual XMC sites, the MFC700 enables I/O to be tightly coupled with a large system memory resource. This is useful for what is referred to as rate buffering of high throughput data (i.e., controlling the rate of flow of data through a system). incoming data from an XMC can be temporarily stored on the MFC700 and then passed to processing or recording nodes at a rate that does not overrun their capabilities.
The MFC700 supports VxWorks and Linux. An API is provided for integration with other boards.
The MFC700 is a VPX-REDI compliant with 1" pitch and is available in both air and conduction cooled versions. Boards are available 8-12 weeks ARO.
For more information on this product, please visit http://www.vmetro.com/mfc700
Xilinx and Virtex are a registered trademarks of Xilinx, Inc., San Jose, California in the United States and may be registered in other countries. RocketIO is a trademark of Xilinx, Inc. San Jose, California in the United States and other countries. Serial RapidIO is a trademark of the RapidIO Trade Association.
About VMETRO
VMETRO [OSE: VME] provides commercial-off-the-shelf (COTS) board- and system-level embedded computer products from development to deployment for applications in Aerospace & Defense, Industrial, Communications, Medical, Enterprise Computing and Network Storage. Our products offer the highest levels of performance, innovation and reliability by applying state-of-the-art technology within the framework of well established industry standards.
VMETRO is a leading supplier of 1) Embedded Computing - ruggedized and commercial grade high-performance Digital Signal Processing and FPGA Processing solutions, Analog, Digital and Fiber-Optic I/O, and Buffer Memory Nodes 2) Data Recorders & Storage - ruggedized and commercial grade real-time long-endurance recording, playback and analysis systems for high-speed sensor data 3) Protocol & Bus Analyzers - debug, validation and analysis tools for testing computer systems and 4) Network Storage devices - solid-state non-volatile cards designed to increase performance and maintain reliability in server and storage appliances.
For more information, please visit http://www.vmetro.com.
# # #