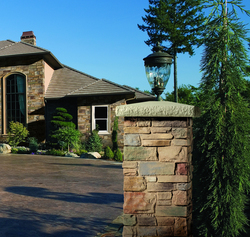 Columbus, Ohio (PRWEB) September 26, 2008
Featuring all the detail, shadowing and texture of fine, quarried stone, but without needing installation by a professional stonemason or ongoing maintenance, the new BellaStone® Architectural Columns provide homeowners with beautiful stone accents for homes, landscaping, fence posts and porch posts railings. Now available, BellaStone Architectural Columns are the latest product innovation in the popular BellaStone product family.
Launched in 2007, BellaStone has been recognized by many trade and consumer magazines as one of the most innovative new products in years. The new BellaStone Architectural Columns capitalize on years of research and development and pushes this exciting new technology into a new category - decorative columns for landscaping, fence and porch post applications. The new system utilizes Crane's exclusive, dimensional non-masonry stone technology in a long- lasting, durable column design. Unlike competitive decorative columns such as wood columns and fiberglass columns, which may require painting and ongoing attention, BellaStone Architectural Columns offer true maintenance freedom. The long-lasting surface will not weather regardless of environmental conditions and ultra-violet rays.
While BellaStone Architectural Columns' dramatic, chiseled stone appearance provides excellent curb appeal and aesthetics, the real benefit is the mix-and-match program that allows homeowners and builders to customize each column with complementary caps. The BellaStone Architectural Columns are 20 inches square and available in two sizes: 16 or 38 inches tall. Each is also available in two colors - Tuscan (Earth-tone shade) and Torino (gray-tone shade).
BellaStone Architectural Columns can be used with or without a cap depending on preference or application. There are two BellaStone Cap color options - KeyStone and Coblestone. The Traditional BellaStone Cap features a defined overhang and a slight angle leading to a flat top. This cap can be combined with light kits for outdoor lighting. The BellaStone Caps have hand-chiseled edges and provide users yet another option to customize the look for their project.
BellaStone Architectural Columns marry the timeless beauty of stone with true installation ease. No professional stonemasonry skills are required and the system can be customized and installed in minutes. For fence posts, porch posts and railing installations, BellaStone Architectural Columns are specially engineered and can be mounted using a variety of popular post sizes ranging from 15/8"- 2" galvanized pole to a 6" x 6" treated wood post. Once mounted, BellaStone Architectural Columns nicely accents a variety of popular fence and railing styles.
All BellaStone products offer a 50-year limited warranty. For more information on the new BellaStone Architectural Columns or other BellaStone and Exterior Portfolio by Crane products, call 800-366-8472 or visit http://www.exteriorportfolio.com.
Exterior Portfolio® by Crane is focused on exterior design options for architects, builders, contractors, and homeowners. Exterior Portfolio offers an extensive collection of cladding products and accents including BellaStone®, CraneBoard® and Architectural Essentials™, to demonstrate textures, colors and styles. The first of its kind in the building products industry, Exterior Portfolio is a design group of products, branded by Crane Performance Siding®, located in Columbus, Ohio.
###