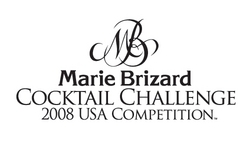 New York, NY / San Francisco, CA (PRWEB) September 26, 2008
For the first time in 26 years, Marie Brizard Cocktail Challenge invites the public to cast their vote online for their favorite challenger at http://www.cocktailtimes.com/mariebrizard. Online voting is available from now through mid October before the regional final events in New York City and San Francisco. The challenger, who receives the most votes will receive the Hospitality Award - original bartender kit from Marie Brizard Distillery in Bordeaux, France.
This year's Marie Brizard Cocktail Challenge, USA competition brings 20 challengers from coast to coast. The USA champions, one from each coast will travel to Bordeaux in December to attend the 26th Marie Brizard International Bartender Seminar and Cocktail Competition. For over 25 years, thousands of top bartenders from around the world have participated in this seminar and competition. It is one of the most rewarding lifetime experiences for the world's bar professionals.
The west coast regional final takes place on October 27th at Conduit Restaurant in San Francisco and on November 7th at Madison Square Garden in New York City for the east coast. The challengers will mix their submissions and a final cocktail with an assigned Marie Brizard flavor at the event. The USA champions will be selected by a tasting panel, technical judges and the head judge, Chester Brandes, president and CEO of Imperial Brands, Inc., importer of Marie Brizard.
The challengers' biography, recipes and photos are available on the official site of 2008 Marie Brizard Cocktail Challenge, USA Competition at http://www.cocktailtimes.com/mariebrizard. The site allows voters to cast their votes only once in each region. This year's challengers are:
The West Coast Challengers
Joel Baker, Bar Manager at Bourbon and Branch (501 Jones Street, San Francisco)
Joe Parrilli, Bartender at Clock Bar at Westin Hotel (335 Powell Street, San Francisco)
H Joseph Ehrmann, Bartender at Elixir (3200 16th Street, San Francisco)
Brian Mac Gregor, Bartender at Jardiniere (300 Grove Street, San Francisco)
Sierra Zimei, Bartender at Four Seasons Hotel (737 Market Street, San Francisco)
Camber Lay, Bar Chef at Epic Roasthouse (369 Embarcadero, San Francisco)
Joe Wrye, Bartender at Waterbar (399 The Embarcadero, San Francisco)
Tim Stookey, Bartender at Presidio Social Club (563 Ruger Street, #563, San Francisco)
Jackie Patterson, Bar Manager at Orson (508 4th Street, San Francisco)
The East Coast Challengers:
Eben Freeman, Master Mixologist at Tailor (525 Broome Street, NYC)
Jason Cobb, Bartender at Brandy Library (25 N. Moore Street, NYC)
Don Lee, Beverage Director at PDT (113 St Marks Place, NYC)
Brian Miller, Bartender at Death & Company (433 East 6th Street, NYC)
Gen Yamamoto, Bartender at Zen Lounge (252 DeGraw Ave, Teaneck NJ)
Antonio Lara, Bartender at The Modern at MoMA (9 West 53rd Street, NYC)
Terence Miller, Beverage Director/Sommelier at Megu Midtown (854 UN Plaza, NYC)
Miguel Aranda, Bartender at Plaza Hotel (768 5th Avenue, NYC)
Pichet Ong, Chef at P*ONG (150 West 10th Street, NYC)
Tony Perez, Mixologist at G Lounge (111 South 17th Street, Philadelphia PA)
To learn more about this year's Marie Brizard Cocktail Challenge, please visit: http://www.cocktailtimes.com/mariebrizard.
Marie Brizard is imported by Imperial Brands, Inc. in the United States. Headquartered in Palm Beach Gardens, Fla., it is a U.S. subsidiary of Belvédère S.A., one of Europe's largest producers and distributors of white spirits and wines. Belvédère S.A. operates production and distribution units in Poland, France, Bulgaria, Lithuania and the United States and additionally owns subsidiaries in Russia, Canada, Spain, Scandinavia and Brazil. Belvédère S.A. purchased Marie Brizard & Roger International in July 2006.
Imperial Brands Inc. also owns Florida Distillers Co., which has two production facilities located in Florida. This provides bottling capacity of 5 million (9-liter) cases of distilled spirits for the company and a base on which to coordinate its expansion across the U.S. To learn more about Imperial Brands, Inc., please visit the company website at: http://www.ibrandsinc.com
# # #