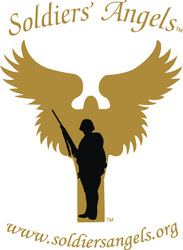 It's so important that our returning heroes get regular evaluations and basic health care after having been in combat
Pasadena, CA (PRWEB) September 25, 2008
Soldiers' Angels welcomes SVM, a leader in the gasoline and retail gift card industry, to its Tank Support program, which helps returning military veterans who must make regular trips to their local VA Hospitals. Grateful Americans can give a veteran some "tank support" by purchasing gasoline gift cards from SVM. All gift cards received will be used to help ensure returning combat veterans get the regular checkups and medical care they need, and SVM will donate $1 to the Tank Support effort for each purchase made through their website (up to $10,000).
Tank Support began in July 2008 to aid service members requiring assistance in order to frequently travel to VA medical facilities for evaluation, treatment or rehabilitation, and regular health care. These vital trips can be a financial a burden for some veterans, so SVM is honored to assist the Tank Support effort. "We know of no better cause than to help those men and women and their families who protect our freedom and way of life," says Marshall Reavis, SVM's CEO.
"It's so important that our returning heroes get regular evaluations and basic health care after having been in combat," says Soldiers' Angels founder Patti Patton-Bader. "The Tank Support program is an important way to help veterans stay on top of their ongoing health care needs."
Gasoline gift cards must be purchased through http://www.svmcards.net/TankSupport to be eligible for the additional $1 donation from SVM. For more information, see http://www.soldiersangels.org.
ABOUT SOLDIERS' ANGELS
A volunteer-led 501(c)(3) non-profit, Soldiers' Angels provides aid and comfort to the men and women of the U.S. military and their families. Comprised of 200,000 volunteer members in over twenty different teams and programs, its activities include letters, care packages and comfort items for the deployed, and support for their families at home. The organization also provides assistance to the wounded, continuing support for veterans, remembrances and comfort for families of the fallen, and immediate response to unique difficulties. See http://www.soldiersangels.org for more information.
Founded in 1997, SVM is a leader in the gift card industry and the only company that offers gasoline gift cards from every major oil company in America. SVM is also a leading distributor of the American Express®-branded Fill It Up® prepaid gasoline card. In addition, SVM offers gift cards from more than100 of the nation's most popular retail stores, restaurants and hotels. SVM supports clients' gift card programs by providing program management (including 3rd party gift card issuing partnerships), card production and inventory management, retail and individual fulfillment, Internet hosting and 24/7 customer service. SVM is headquartered in the metropolitan Chicago area at 999 Touhy Ave., Suite 250, Des Plaines, IL. Phone (800) 972-7481 or visit http://www.svmcards.com
###