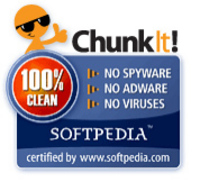 We designed ChunkIt! to be squeaky clean all along, but love to have it acknowledged by a third-party expert
San Jose, CA (PRWEB) September 25, 2008
TigerLogic Corporation (Nasdaq: TIGR), today announced that ChunkIt!, its new search tool designed to help people find better information faster on the Web, has been awarded "100% Clean" by Softpedia, the download encyclopedia. This means that ChunkIt! not only saves people time by showing them the most relevant "chunks" of information with their chosen keywords on Google and any search engine results or Web page, but also that it is 100% clean and safe to download and use.
Softpedia is known to thoroughly test each software product and game listed in their directory and to check each one for evidence of viruses, malware, adware or spyware using a variety of well-known antivirus and antispyware products. Any free software that Softpedia finds to be clear of viruses, malware, adware and spyware, like ChunkIt!, is granted the "100% Clean" award.
"We designed ChunkIt! to be squeaky clean all along, but love to have it acknowledged by a third-party expert," said Jeffrey Wong, Vice President of Marketing for TigerLogic. "We are working to get ChunkIt! in front of every person interested in saving time while searching the Web, and this is another positive step on our path."
ChunkIt! displays the most pertinent "chunks" of information behind the links in search results, allowing users to see if the information they are looking for is actually behind the links in the results page. Using ChunkIt! provides a one click solution for quickly and easily improving results on any Web site or search engine, including Google, Yahoo!, AOL, Ask and MSN Live Search. The innovative ChunkIt! approach to search saves users time and frustration because they can avoid aimless browsing and endless clicking on "lame links."
Click here to visit the ChunkIt! page on Softpedia. For more information about ChunkIt! and ways it can save you time while searching the Web, visit http://www.getchunkit.com.
About TigerLogic Corporation:
TigerLogic Corporation (Nasdaq: TIGR), headquartered in Irvine, California, offers enterprise-grade XML database management and information aggregation software solutions and has been providing reliable data management and rapid application deployment solutions for ISVs and developers of database applications for more than three decades. TigerLogic's flagship products include: 1) TigerLogic® ChunkIt!, an internet browser-based application that enhances the search experience of any popular search engine or web page; 2) The High-performance TigerLogic® XML Data Management Server (XDMS), which provides flexible, scalable and extensible XML data storage as well as query and retrieval of critical business data across a variety of structured and unstructured information sources, delivering mid-tier scalability and transactional integrity across heterogeneous enterprise databases as well as dynamic extensibility and ease of use, mostly found in repositories and file systems; 3) Powerful Pick® Universal Data Model (Pick UDM) based database management systems and components, including D3®, mvEnterprise® and mvBase® that are the choice of more than a thousand application developers worldwide and .NET Integration components including the Pick Data Provider for .NET and the Pick Reporting Services Connector; and 4) Omnis Studio®, a powerful, cross-platform, object-oriented RAD tool for developing sophisticated thick-client, Web-client or ultra thin-client database applications. TigerLogic's installed customer base includes more than 500,000 active users representing more than 20,000 customer sites worldwide, with a significant base of diverse vertical applications.
With more than 100 employees and contractors worldwide, TigerLogic offers 24x7 customer support services and maintains a strong international presence. More information about TigerLogic and its products can be found at http://www.tigerlogic.com. Product details about ChunkIt! can be found at http://www.getchunkit.com.
Except for the historical statements contained herein, the foregoing release may contain forward-looking statements. These forward-looking statements are subject to risks and uncertainties, and actual results could differ materially due to several factors, including but not limited to the success of the Company's research and development efforts to develop new products and to penetrate new markets, the market acceptance of the Company's new products and updates, technical risks related to such products and updates, the Company's ability to maintain market share for its existing products, the availability of adequate liquidity and other risks and uncertainties. Please consult the various reports and documents filed by the Company with the U.S. Securities and Exchange Commission, including but not limited to the Company's most recent reports on Form 10-KSB and Form 10-Q/QSB for factors potentially affecting the Company's future financial results. All forward-looking statements are made as of the date hereof and the Company disclaims any responsibility to update or revise any forward-looking statement provided in this news release. The Company's results for the quarter ended June 30, 2008 are not necessarily indicative of the Company's operating results for any future periods.
TigerLogic, ChunkIt!, Raining Data, Pick, mvDesigner, D3, mvEnterprise, mvBase, Omnis, and Omnis Studio are trademarks of TigerLogic Corporation. All other trademarks and registered trademarks are properties of their respective owners.
###