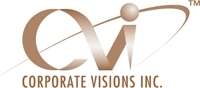 The approach provides companies with a repeatable process for bringing together a cross-functional team to identify a company's power positions, then packaging those positions into messages and tools sales people will use at key moments of truth in the customer buying cycle
Incline Village, NV (PRWEB) September 26, 2008
With most product categories becoming increasingly commoditized, companies are seeking new ways to stay one step ahead of the competition. If what you sell is so similar that your customers can't tell you apart from your competitors, where's the opportunity to be different? Corporate Visions, a leading marketing and sales messaging firm, believes the next big opportunity for competitive differentiation is in your company's ability to "de-commoditize" your customer conversations.
"Customer face time is the frontline in the battle to overcome perceived parity," says Joe Terry, President of Corporate Visions. "This means the customer messages delivered in presentations, conversations and other customer communications are fast-becoming your last bastion of competitive differentiation."
Corporate Visions is helping companies exploit this opportunity with a newly updated version of the Customer Message Management™ system for aligning Marketing and Sales departments. Customer Message Management™ 2.0 is the result of the recent acquisition of CMM Group by Corporate Visions, and the integration of the two companies' proven marketing and sales messaging product lines.
"The approach provides companies with a repeatable process for bringing together a cross-functional team to identify a company's power positions, then packaging those positions into messages and tools sales people will use at key moments of truth in the customer buying cycle," says Tim Riesterer, Chief Marketing Officer for Corporate Visions. "Next, it embeds those messages and tools into a skills training approach focused on the customer conversation. Finally, it provides online coaching resources that sales people can access to reinforce the messages once they leave the classroom."
GE Healthcare Chooses Corporate Visions for Commercial Transformation Project
One of the first clients to apply the Corporate Visions integrated solution is GE Healthcare, the multi-billion dollar manufacturer of medical technologies and services, which is undergoing a Commercial Transformation Project.
"Many times a purchase decision comes down to which company the customer feels really understands their needs, and which one can show it is more aligned with the customer's objectives," says Charlene Grabowski, General Manager of Commercial Learning and Development for GE Healthcare. "As a result we need to provide a superior customer experience during the sales cycle that will set us apart -- even when a customer thinks the product specs are close, this needs to happen on purpose, not by accident."
To create this Commercial Transformation, Grabowski identified the need for a process that would scale across the organization. It also had to align the key constituencies, including Marketing, Communications, Sales and Training. "We needed a customer-focused approach that gets everyone to agree on how to position GE based on what the customer wants to accomplish, not what we have to sell," she said. "Our message development and delivery then had to connect the head and the heart. And, finally, we needed to stop re-inventing the wheel and start applying a consistent process that would speed up our ability to bring new offerings to market."
"Corporate Visions provides an end-to-end approach that brings this whole concept together," Grabowski said. "First, they opened our eyes to a new way to address customer needs in this difficult economic time. Second, they have a complete, integrated process -- from differentiated message development to differentiated selling tools and skills. It's also documented and repeatable, which means it's something we can turn into an internal competency and best practice, which is the ultimate goal of any business transformation."
Corporate Visions Approach
Corporate Visions helps companies be different - where it counts. The company has updated and launched the Customer Message Management™ 2.0 system to help companies de-commoditize their customer conversations.
Customer Message Management 2.0 is a platform consisting of the following integrated processes:
1) Power Positioning™ -- Fuses marketing and sales to develop a consistent story and one voice to the customer.
2) Power Messaging™ -- Injects passion into message delivery to ignite a fire in customer conversations.
3) Power Coaching™ -- Provides a sustainable process to support deployment and keep the process going.
In addition to GE Healthcare, Corporate Visions works with globally recognized companies such as MasterCard, CareerBuilder, IBM, Fidelity, Volvo Trucks, CA and many more. Corporate Visions provides marketing and sales messaging consulting, training and products. For more information contact us at http://www.CorporateVisions.com or by calling 775-831-1322 or 800-360-SELL.
Corporate Visions is a registered trademark of Corporate Visions Inc.
###