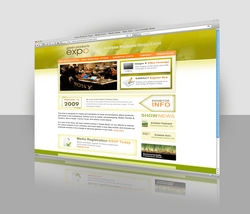 This is a unique opportunity for the media to casually review some of the latest green products
Fort Mill, SC (PRWEB) September 26, 2008
A Green Products Expo that lets eco-friendly product manufacturers showcase their new green products to New York media will be held in New York City in February.
The tabletop tradeshow is a one-day event to be held Thursday, February 25, 2009 from 11:00am to 3:00pm at the New York Marriott Marquis in the heart of Times Square. The location was chosen for its close proximity to hundreds of the top consumer magazine media professionals in New York City.
The event is designed for editors of magazines, newspapers, online news syndicates and other media interested in environmentally friendly products. Green products exhibitors will showcase the latest in home décor, baby products, furniture, body care, cosmetics, technology, cleaning supplies, apparel, accessories and more. They will field media questions and provide press kits and product samples to attendees. The show is only open to media professionals to attend.
"This is a unique opportunity for the media to casually review some of the latest green products," commented Kevin Nichols, a Green Products Expo representative. "This is an excellent way for media to learn innovative ways manufacturers are utilizing renewable resources and producing eco-friendly products."
Media Event Details:
Green Products Expo Show Facts
When: February 25th, 2009
Where: Marriott Marquis Times Square, New York
Show Info: A tabletop show of green products exhibitors devoted solely to media attendees. Attendance is free.
Website: http://www.greenproductsexpo.com
Contact: Kevin Nichols, Show Manager, 803-802-7141 ext.13
kevin.nichols @ greenproductsexpo.com
###