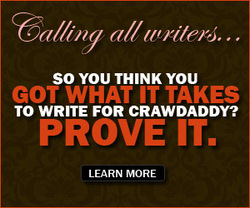 San Francisco, CA (PRWEB) September 29, 2008
http://crawdaddy.wolfgangsvault.com/writing-contest.html Crawdaddy!, The Magazine of Rock announces the first ever search for the next Great Rock Critic in a writing contest launched today, in which one lucky writer will have the opportunity to become a published Crawdaddy! Rock Critic.
Crawdaddy!, known since 1966 for its cutting edge, fiercely independent, often amusing, and occasionally irreverent criticism of rock, includes a team of writers across the United States who scout and comment on the latest trends, issues, and music in the world of rock. The prestigious opportunity to join the ranks of these writers provides a rare entry into the world of professional rock journalism.
To enter the contest, writers from Journalism Schools across the US are invited to submit two articles based on an actual Crawdaddy! assignment. Writers will privately submit their entries to Crawdaddy! management by the deadline of November 3, 2008. Crawdaddy! will chose the top three finalists and post their submissions online for popular vote. The winner will be determined by a combination popular vote and editorial discretion by Crawdaddy! management. The winning writer will win a coveted place in Crawdaddy! writer's pool, with opportunity for future publication, not to mention a $500. cash prize.
Complete contest rules and how to enter can be found at http://crawdaddy.wolfgangsvault.com/writing-contest.html
###