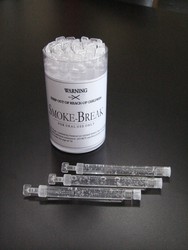 I'm happy with the results
Milwaukee, WI (PRWEB) September 26, 2008
Several months ago, 52 smokers embarked on an FDA-approved, 12-week clinical study of a new smoke-cessation device called Smoke-Break. The results of the study were released today with 71 percent of the study participants smoke-free after 12 weeks.
Smoke-Break is a "liquid nicotine cigarette" that resembles an unlit cigarette in size and shape. The clear tube contains a cherry-flavored gel along with 1.5 milligrams of nicotine, about as much as in a light cigarette. Users consume the liquid by lifting the tube to their mouths, and sipping through a mouthpiece, much like they would draw on a cigarette.
Approved by the FDA for clinical study in 2007, the study sought to determine whether Smoke-Break would help smokers stop smoking, while avoiding the side effects seen in other smoke-cessation products. The answer is yes, and that's promising news to study sponsor Dr. Carl E. Olson, Chairman of the Radiation Oncology Department at Columbia St. Mary's in Milwaukee.
"There were no serious adverse events during the study," Dr. Olson said, "and only a few minor events, such as sore throat or heartburn. The real surprise for me was the rate of smoke cessation. It is unprecedented."
Smoke-Break inventor Brett J. Roth created Smoke-Break in 2004 to kick his own two-pack-per-day habit. Roth hopes that Smoke-Break will soon be able to help smokers nationwide, now that his invention has shattered the previous record for an FDA clinical study, set by Chantix, which achieved a 44 percent quit rate after 12 weeks. Chantix, however, has recently been scrutinized for a number of potentially dangerous side effects.
"I'm happy with the results," stated Roth, "but I'm most excited for the participants, many of whom have expressed gratitude at finally being able to kick this deadly habit."
Roth and Dr. Olson were joined by Study Coordinator and nurse Deb Baumgarten, and Principal Investigator Dr. Nicholas Geimer, another cancer specialist. "I don't think we're doing our jobs as clinicians," Dr. Olson said, "unless we try to prevent cancer in the first place."
According to the U.S. Department of Health and Human Services Centers for Disease Control (CDC), more than 400,000 individuals in the U.S. die each year, prematurely, as a result of smoking. Thousands more are negatively afflicted with various respiratory and other smoke-related illnesses.
For more information about Smoke-Break, visit liquidcigarette.com. Additional information can be found at http://www.ClinicalTrials.gov, by searching "Smoke-Break."
###