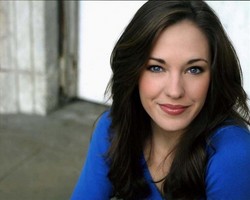 No two shows ever share the same path to Broadway
Rochester, NY (PRWEB) September 26, 2008
Producers of Jane Austen's Pride and Prejudice, The New Musical announce that Laura Osnes (Grease!, winner of Grease: You're the One that I Want!) will play the role of Elizabeth (Lizzy) Bennet in the Broadway-bound musical's one-night-only performance at Rochester's historic Eastman Theatre on Tuesday, October 21. Osnes joins previously-cast Donna Lynne Champlin (Sweeney Todd, Hollywood Arms, By Jeeves) as Jane Austen and Colin Donnell (Jersey Boys, Follies) as Fitzwilliam Darcy.
"I am so honored to join this terrifically talented cast and play one of literature's most feisty yet beloved young heroines," says Osnes, who recently completed a year-long run as "Sandy" in Broadway's Grease!, after winning the hearts of voting viewers of NBC's reality competition, Grease: You're the One that I Want! She will also star in the Kennedy Center for the Performing Arts' Broadway: Three Generations on October 2 -5, before starting rehearsals for Pride and Prejudice on October 6.
Osnes' fellow alumna and finalist in Grease: You're the One that I Want!, Juliana Ashley Hansen (Saved, The Musical; Thoroughly Modern Millie, Nat'l Tour) has been cast as her sister Jane Bennet, while Mark Blum (Twelve Angry Men, The Graduate, Desperately Seeking Susan) and Patty Goble (Curtains; The Woman in White; Kiss Me, Kate) will play the parents of the five Bennet daughters. Anne Letscher (Fiddler on the Roof), Molly Ranson (August Osage County) and Jacque Carnahan (The Baker's Wife) will round out the Bennet family as Mary, Kitty and Lydia respectively. Jim Stanek (Lestat, Little Women, The Rivals), fresh from Signature Theatre's ACE, will play Mr. Collins, John Behlmann (Journey's End) has been cast as Mr. Wickham, while Rory O'Malley (Happy Days: A New Musical) has the role of Jane's suitor, Charles Bingley. Patty Goble's dual role includes that of Lady Catherine as well as Mrs. Bennet, and Jennifer Waiser (The Pirate Queen) will play Lizzy's friend, Charlotte Lucas.
The rest of the ensemble, playing the numerous characters in Austen's beloved novel, include: Sarah Dacey Charles (Les Miserables), Jonathan Michie, Kat Palardy, Jon Reinhold, Matthew Schneider, Michael Scott (Follies, 110 in the Shade, Showboat), Libby Servais, Eric Ulloa and Marguerite Willbanks (Beauty & the Beast).
Jane Austen's Pride and Prejudice, The New Musical was written by two Rochester, NY women, Lindsay Warren Baker and Amanda Jacobs. This concert performance features a 17-piece, on-stage orchestra made up of musicians from the prestigious Rochester Philharmonic Orchestra, as
well as the work of Set Designer Mikiko Suzuki MacAdams (Light in the Piazza, Cymbeline, South Pacific), Lighting Designer Dale Knoth (The Seagull, Twelve Angry Men, King Lear), Costume Designer Lynn Bowling (Cry Baby, Chicago, Steel Pier) and Sound Designer Scott Stauffer (The Rivals, Twelfth Night, Jekyll & Hyde). The show's Broadway opening is targeted for November of 2009.
"No two shows ever share the same path to Broadway," says the show's Rochester Producer Lori Bajorek. "What makes this event unique is that we're taking what is usually a much more private affair - the first performance with a full cast, some design aspects and the continually-evolving book and music - and turning it into a very public performance. I chose Rochester because of its supportive, artistic environment, and I know that this will help my team to see where our show is now and how it can continue to grow."
Bajorek optioned the show after it made its World Premiere at The Ohio Light Opera in July of 2006, following a workshop production at Rochester's Eastman School of Music. Since then, she has attracted an enviable list of Broadway veterans to its production team, including noted theatre and film attorney and author Executive Producer Donald C. Farber, Esq., Tara Rubin Casting and General Manager Charlotte Wilcox. Both the concert performance and the Broadway production will be directed by Tony Award-nominated Director Mark Lamos (Our Country's Good, Seascape, Cymbeline) with Musical Director Fred Lassen (Dirty Rotten Scoundrels, South Pacific) and Associate Director Michael McGoff (Cymbeline, Seascape, Butley).
Tickets to the one-night-only event at Eastman Theatre on October 21 at 7:30 p.m. are $35, $45 and $75, and are available by calling 585-232-1900 or online at http://www.tickemaster.com.
Media please note: High-resolution photographs are available electronically and interviews may be arranged. Please visit http://www.prideandprejudicebroadway.com for more information.
###