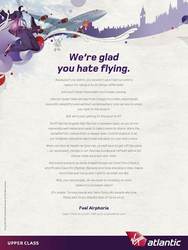 Virgin Atlantic is known for changing the face of air travel, and for almost 24 years we have provided business travelers with a more effective, efficient and distinctively enjoyable end-to-end travel experience - Virgin style.
South Norwalk, CT (Vocus) September 26, 2008
Virgin Atlantic Airways, one of the world's leading long-haul carriers, today announced the launch of its new U.S. marketing campaign, which leverages its unique combination of highly innovative products, unparalleled services, and incomparable value, for its award-winning Upper Class and Premium Economy cabins.
Buoyed by strong First Quarter 2008 financial results, Virgin Atlantic is continuing to invest in its product for both the business market and leisure travelers at a time when other carriers are continuing to scale back.
The new campaign, called Airphoria , focuses on Virgin Atlantic's brilliant basic and magic touches, and its unique ability to deliver a truly exciting flying experience for the increasingly frustrated and disappointed business traveler.
Virgin Atlantic, which flies from 10 U.S. gateways directly to London and beyond, highlights in the new campaign its superior on-ground and in-flight experiences (complimentary limos to and from the airport, Drive-Thru Check In, Private Security Channel, 8,000 square-foot Heathrow Clubhouse with complimentary Bumble and bumble haircut, Cowshed spa pool and relaxation treatments, uncompromising cuisine, onboard bar, and the longest fully flat bed in business class) to demonstrate the feeling of Airphoria, a state of intense pleasure and excitement that results from flying Virgin Atlantic.
Developed with their agency of record, McKinney, the campaign will be rolled out throughout the fall season in major national print publications, out of home, and online executions.
Quotes:
Quote attributable to Chris Rossi, Senior Vice President, North America, Virgin Atlantic Airways:
"Virgin Atlantic is known for changing the face of air travel, and for almost 24 years we have provided business travelers with a more effective, efficient and distinctively enjoyable end-to-end travel experience - Virgin style."
Quotes attributable to Dave Cook, Group Creative Director at McKinney:
"Virgin Atlantic has always been about the potential of flight, the potential of greatness. And it's the only airline that could claim the feeling of Airphoria."
"In true Virgin Atlantic fashion, Airphoria print advertising champions the customer experience: We're glad you hate flying…Turning people who hate flying into people who love flying with Virgin Atlantic kind of turns us on."
Quote attributable to Jim Mezoff, Vice President of Marketing, North America, Virgin Atlantic Airways:
"We're absolutely confident that once a traveler experiences the Airphoria of Virgin Atlantic, they'll keep coming back again and again. It's simply that good."
About Virgin Atlantic Airways
Virgin Atlantic is one of the world's leading long-haul airlines, currently operating over 240 flights a week from Heathrow to a range of long-haul destinations worldwide. Founded in 1984, Virgin Atlantic Airways now offers service from 10 U.S. cities to London. The airline operates lon- haul services to 30 destinations worldwide from its main base in London Heathrow and Gatwick with service as far apart as Las Vegas, Tokyo, Delhi, Boston and Shanghai, with recent growth to Nairobi and Chicago. There are 38 aircraft in the Virgin Atlantic fleet, comprising 747-400s, A346s and A343s. Sir Richard Branson is the President of Virgin Atlantic; Steve Ridgway is the Chief Executive. In 2007, Virgin Atlantic carried around 6 million passengers, and even with Virgin Atlantic's continued growth, the service still remains customer-driven with an emphasis on value for money, quality, fun and innovation, ensuring flying Virgin Atlantic is always an event.
About McKinney
McKinney is never satisfied simply being a great advertising agency, but to constantly be part of the revolution of how brands go to market. Our goal is to lead convergence of offline and online, to identify relevant applications for new technologies, and to deliver the richest, most engaging and most fluid conversations between brands and their best prospects.
Founded in 1969, the Durham, NC-based agency has created some of the most innovative integrated marketing communications programs, including Audi of America's Art of the H3ist, Travelocity's Roaming Gnome, the Polaris CEO Duel and the launch of the Sony Bravia LCD TV.
Earlier this week, Virgin Atlantic Airways and McKinney took top honors at the Interactive Advertising Bureau's MIXX Awards that celebrate the "mixx" of creativity and effectiveness in digital marketing. Virgin Atlantic's experiential launch, "Love from Above," won a Gold MIXX in the Mobile Platforms category for the company's first-ever WAP site.
McKinney's clients include Brown-Forman Corporation brands Bonterra, Chambord, Sonoma Cutrer, Southern Comfort and Tuaca; Coldwell Banker, Major League Gaming, The NASDAQ Stock Market, Partnership for a Drug Free America, ProShares, Qwest Communications, Travelocity, Virgin Atlantic Airways and Virgin Mobile USA.
Recently, McKinney's management acquired 100% interest in the agency from Havas.
For more information, visit our web site at http://www.mckinney.com or visit the McKinney Newsroom by contacting Janet Northen at janet.northen@mckinney.com.
For further information please contact the Virgin Atlantic Press Office at
(203) 750-2570 or visit http://www.virginatlantic.com
###