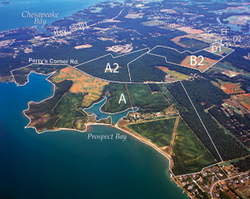 The Greatest Show on Earth
Annapolis, MD (PRWEB) September 27, 2008
Higgenbotham Auctioneers International (HAI) of Lakeland, Florida, working in cooperation with IronPlanet Real Estate of Pleasanton, California, announced today that their firm has been retained to offer at auction Talisman Farms and its picturesque 1091± acres in Grasonville, Maryland.
The auction will be held at 6:00 pm Tuesday, October 14th at the Four Points Sheraton, which is situated at 7032 Elm Road in Baltimore, MD. The property may be toured during public open houses, which are scheduled on Saturday, Oct. 4th from 10am to 4pm and Sunday, Oct. 5th from 11am to 3pm.
Talisman Farms is the former estate of renowned Maryland newspaperman Arthur H. Kudner Sr. and has been passed down through three generations of the Kudner Family.
The estate is being offered in seven parcels, ranging from 610± acre Prospect Bay home and preserve to a .31± acre home-site. Five parcels are being offered absolute to the last and highest bidder.
The property is divided along natural boundaries with Parcel A featuring nearly four miles of shoreline along Prospect and Eastern Bays with more than 26 miles of unspoiled Chesapeake Bay vistas. This parcel also features the 8000± sq. ft. Kudner manor home, a large pool, tennis and basketball courts, Talisman Airfield with three runways, horse stable and seven other separate residences. The tract is heavily wooded and acts as a refuge and preserve for many types of waterfowl, goose, turkey and trophy deer.
The remaining six parcels feature mature forest, farmland and home sites. This is a public auction, each parcel is available separately or the entire estate may be purchased as a whole.
"This turn of the century jewel is nestled along the shores of Chesapeake Bay and offers all who pass through its gates the serenity of nature and the freedom of the sea. Rich in tradition, Talisman Farms links the present with days gone by. This is a wonderful opportunity to live and play by the sea. For more than a century, Talisman Farms has remained a coastal hide-a-way beyond compare", stated Angie Poole, Auction Manager for Higgenbotham Auctioneers International.
Complete information about the Talisman Farms Auction is available at http://www.higgenbotham.com. Information includes a full color brochure, complete due diligence documents and online virtual tour. Live real time online bidding is available. For interviews and other details contact Angie Poole at Higgenbotham Auctioneers (800) 257-4161.
A Bit of History
With sandy beaches, Chesapeake Bay access, and its state regulated shooting area, Talisman Farms has more than 70 years of colorful history. The estate has been a Kudner family retreat and gathering place for a virtual who's who of early turn of the century New England.
It was originally established in the early 1930's by Arthur H. Kudner Sr., who is remembered as a publishing giant and founder of Erwin, Wasey and Company Ad Agency. Mr. Kudner patented many techniques used in the era's illustrative design and print media. He was an accomplished concert singer and a celebrated aviator. His love of aviation was the driving factor in the development of Talisman Farm Airfield, a unique triangular configuration of three 2000' runways that are still used presently for fly-ins.
Kudner's love of flying and that of good friends coupled with Talisman Farm's rejuvenating qualities, opened the estate to visitors such as Tom McKnew, President of National Geographic Society who worked with Amelia Earhart on a National Geographic Explorer project before her disappearance in 1937 while attempting to circumnavigate the globe, Edna Woolman Chase Newton, Editor and Chief of Vogue Magazine, who's relationship aided in Talisman Farms being featured in the January 15, 1945 issue of Vogue. It was also visited by Gene Tunney, the world heavyweight-boxing champion from 1926-1928. Tunney defeated acclaimed boxer Jack Dempsey twice in fights that are considered classics. Other renowned visitors include the then sitting New York Governor Averill Harriman, who later was appointed as United States Secretary of Commerce and Ambassador to Russia, Red Curtice, President of General Motors and Roy W. Howard, President of United Press International.
Family traditions and renown within the publishing industry continued with Arthur H Kudner Jr., President of Tidewater Publishing and Cornell Maritime Press. Tidewater Publishing specializes in direct-mail advertising while Cornell Maritime Press provided books for recreational boaters and the merchant marine services. They boast 222 separate titles on their lists.
Arthur Jr. shared his father's love of sea and air and worked diligently to protect the interest of Talisman Farm's waterfowl. He was a trustee for the Wildfowl Trust of North America and a member of both the Chesapeake Bay Maritime Museum and the Corisca River Yacht Club.
About Higgenbotham Auctioneers International Ltd., Inc.
Founded in 1959, Higgenbotham Auctioneers International ("HAI") is headquartered in Lakeland, Florida and specializes in the sale of real estate throughout the United States and the world by utilizing the auction method of marketing.
HAI is recognized for its sale of estates of notoriety including the estate of noted philanthropist Donald Roebling, great-grandson of John A. Roebling and grandson of Washington Roebling who together designed and built the Brooklyn Bridge and numerous other landmarks across the nation.
The estate of Emmett Kelly, renowned circus clown know as "Weary Willie," a character whom was based on the hobos of the Depression era. Kelly performed with the Ringling Brothers and Barnum and Bailey Circus, on Broadway and in film roles, including the role of "Willie" in Cecil B. DeMille's "The Greatest Show on Earth" in 1952.
Higgenbotham also sold the estate of Jane Bancroft Cook, who was one of the original heirs of the Dow Jones Company. She served on its Board of Directors for 36 years.
The estate of Robert Moran, famed Seattle Washington Mayor, shipbuilder and creator of Rosario Resort & Spa which is located on beautiful Orcas Island in Washington State's San Juan Islands. The Moran Mansion is listed on the National Historic Register
Also a pioneer in the sale of commercial real estate, HAI is an alliance partner of NAI Global and enjoys continuing relationships with Fortune 500 clients such as Alcoa, International Paper, Wal-Mart Realty, and Sinclair Oil, as well as many other publicly traded and closely held companies.
About IronPlanet
IronPlanet is the world's leading online auction company for used construction and
agricultural equipment. Our sellers achieve more profitable sales through low transaction
costs and better price realizations through a global audience of buyers. Our guaranteed
inspection reports and exclusive IronClad Assurance enable buyers to bid with a high
degree of confidence. IronPlanet is backed by Accel Partners, Kleiner Perkins Caufield and Byers, Caterpillar, Komatsu and Volvo. For more information, visit http://www.ironplanet.com.
For more information on the Talisman Farms properties or other Higgenbotham auctions, please contact Angie Poole at Higgenbotham Auctioneers (800) 257-4161 or visit our website at http://www.Higgenbotham.com
###