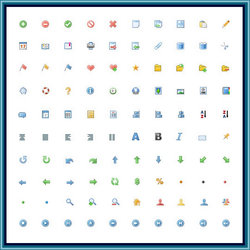 Our team wanted to give back to fellow designers and creative minds. This first complimentary icon set works great for basic web applications like text editors, media players and chat boxes
San Francisco, Calif. (Vocus) September 29, 2008
Knowing the importance of good design and necessity of quality icons and components, Momentum Design Lab is giving back to fellow designers and creative minds by release its first royalty-free icon set. The first of a series of sets in the works, these icons cover a wide range of applications and commonly used functions, such as web browsing, graphic manipulation and desktop control.
Available in two optimized sizes of 16 x 16 and 32 x 32, the Momentum Matte Icon Set is ideal for designers with tight deadlines and limited budgets. "Our team wanted to give back to fellow designers and creative minds. This first complimentary icon set works great for basic web applications like text editors, media players and chat boxes," says David Thomson, Momentum Design Lab's Chief Creative Officer. A second complimentary glossy icon set will be released in late October.
The icons are available for download at http://www.momentumdesignlab.com/.
About Momentum Design Lab
Momentum Design Lab is a premier full-service user experience & strategy design firm that specializes in effective user interface design for a range of platforms, from enterprise applications and software as a service (SaaS) applications to social networks and online communities. Momentum has worked with companies such as Ariba, Barnes & Noble, SuccessFactors, and Walmart. The company has offices in San Francisco, New York, and Los Angeles.
# # #