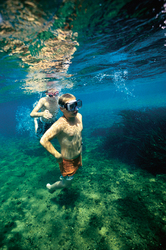 Grand Junction, CO (PRWEB) September 28, 2008
Tracks & Trails, providers of personalized, fly-drive RV vacations to the National Parks of the West since 1996, has just launched three new Florida RV trips. Designed for inexperienced campers, these trips allow couples and families to get outdoors and enjoy nature without the usual camping discomforts. Tracks & Trails staff members recently completed an extensive in-person survey of the region and have put together itineraries that emphasize the outdoor adventure that Tracks & Trails is known for, but with extra time for relaxing on the beach.
The first new trip is "Central Florida and the Space Coast". Starting and ending in Orlando, this 7-10 day route includes time in St. Augustine, Daytona Beach, the Kennedy Space Center, and Cocoa Beach, Florida's surfing center. Using an RV as a mobile base camp, travelers experience these destinations up close and personal. Learn about real pirates, take a surfing lesson, paddle with manatees, maybe even witness a rocket launch.
The second new trip is Florida Keys and the Everglades. Starting and ending in Miami or Ft. Lauderdale, this 7-10 day route includes one of the most beautiful drives in the USA: the Overseas Highway, connecting mainland Florida to the Keys, ending in Key West. Sailing, snorkeling, swimming with dolphins and sandcastle-building are all part of the program.
The third new trip is "Florida One-Way including the Florida Keys". Starting in Orlando and ending in either Miami or Ft. Lauderdale, this 11-14 day route includes the best of both Florida regions. This longer trip includes all of the above, with extra time for visits to the Florida Marine Sanctuary and a sea turtle rescue hospital.
Many active travelers are discovering that RV travel allows them to commune with nature without giving up the comforts of home. And visiting Florida in an RV offers some special opportunities. Florida's State Parks are some of the finest in the country, and many occupy prime beachfront real estate. But there are no hotels in these parks. When night falls, campers get the place all to themselves.
Other trips offered in the company's online catalog cover most of the western US and Canada. After a trip is chosen on the website, customers may speak to an experienced Trip Consultant who answers questions and helps to tailor the trip to fit the traveler's needs. A personalized Trip Proposal outlines all the pieces of the complete vacation package:

A high-quality rented RV
Reserved campsites for each night of the trip
Detailed maps and driving directions
Pre-booked boat rentals, kayak tours, snorkeling expeditions, Jeep rentals, horseback rides, etc.
Insider advice on making the most of each location
A personalized Adventure Kit binder to keep it all organized
About Tracks & Trails:
Tracks & Trails organizes personalized RV vacations and road trips throughout the United States and Canada. 40+ itineraries are based on over 10 years of experience delivering this unique travel product.
Contacts:
Dan Wulfman
President
970-243-9490 x151
Michael Salogga
General Manager
970-243-9490 x111
# # #