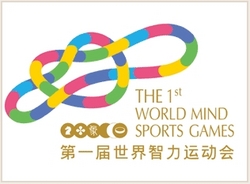 We anticipate the gold medal co-favorites to be Alex Moiseyev (USA) and Ron King (Barbados). Other medal contending countries include Ireland, Great Britain, and Turkmenistan.
San Francisco, CA (PRWEB) September 30, 2008
U.S. participants will join 2000 other Bridge, Checkers, Chess and Go and Xiangqi players from around the world to compete in Beijing in individual and team competitions, following the Paralympics in September, at the Olympic Village in Beijing. Similar to the Olympics, competition will occur over a two week period with appropriate agonies and ecstasies - and Gold, Silver and Bronze medals to be won in the end.
The American Go Association is sending 22 participants (the maximum allowed), and has qualified 8 players (5 men, 3 women) for individual competitions open to professionals as well as amateurs, and 2 for individual competition limited to amateurs. Men's and women's teams of 5 and 3 players (plus one alternate each) will compete in the team events, and there will be one mixed pair. Go is dominated by Asian nations which have active professional organizations (Japan, China and Korea), and a long history of the game in their culture. Best U.S. hopes lie with Jie Li in the amateur individual and Michael Redmond, professional 9-dan, who was recognized as a prodigy at age 10, moved to Japan to train, and eventually reached the top rank. He is the strongest Western go player in the world.
The US Chess Federation will send 14 players, 7 each of men and women. These will include 5 International Grand Masters and 3 International Masters.
The US Bridge Federation follows a longstanding tradition of competing for world bridge championship medals in Open, Women, Juniors, and Seniors events. The U.S. will be among the favorites in each of these events. Through the auspices of the USBF and American Contract Bridge League, bridge remains a popular competitive sport, with active proponents such as Bill Gates and Warren Buffet. Competitive events for players of all ability levels are held on a regular basis, in clubs and tournaments throughout the U.S. The Internet has also provided a boon for bridge players worldwide, with a variety of interactive playing sites, such as http://www.bridgebase.com. Bridge players can sign on and play with their peers throughout the world, or just "kibitz". The Beijing Mind Sports bridge events will be broadcast in real time on BBO and other bridge sites.
The US Checkers Federation will send 4 players to WMSG: Alex Moiseyev -- world champion, Richard Beckwith, Jim Morrison, and Kim Willis. Player representative, Richard Beckwith says "We anticipate the gold medal co-favorites to be Alex Moiseyev (USA) and Ron King (Barbados). Other medal contending countries include Ireland, Great Britain, and Turkmenistan."
US Xiangqi organizations will send 7 men and 4 women to the games - no further information is available at the time of this release.
The World Mind Sports Games are organized by the International Mind Sports Association (IMSA), as a recognized subgroup within the General Association of International Sports Federations (GAISF) which works closely with the Olympic Committee to promote world class competition in many sports not seen in the main Olympics. The inclusion of "mind sports" is a recent development, with only Chess and Bridge currently being formally recognized as Olympic Sports. Go and Draughts (Checkers to Americans) are expected to follow shortly after these games.
Each national mind sports organization is a member of the International organization recognized by GAISF. As in the Olympics, each International organization establishes the events to be played, the conditions, number of competitors, and rules to be used in the competitions.
The impetus to include mind sports in the Olympic Movement started in the 1990s when world Bridge and Chess organizers applied to the International Olympic Committee (IOC) to be recognized as an Olympic sport. Even proponents admitted that this would require the IOC to rethink and redefine what they meant by "sport". Both are now recognized by the IOC as "International Sports Federations." After much consideration, the proponents were referred to General Association of International Sports Federations (GAISF), a normal procedure for any sport applying for Olympic recognition. The two organizations have worked closely together since its founding in 1939. To prepare for Olympic inclusion, the USBF was formed in 1998 to ensure that US bridge competitions that qualified teams for world championships comply with all relevant Olympic rules.
Go, and Checkers followed with their applications, and were similarly referred. Acceptance by GAISF requires demonstration that the proposed sport is actively pursued around the whole world, with national and International organizing bodies managing International competition. In 2006, with 4 GAISF members identified as mind sports, GAISF encouraged them to form a group to organize an Olympic style competition that would be independent, but still related to the Olympics. GAISF and IOC support the use of the Olympic venues, and have encouraged the host nation to extend its hospitality for the additional time required. As in the Olympics, the host nation adds a national sport not yet recognized as an International Olympic sport. China has chosen Xiangxi, known as Chinese Chess in the West, as a 5th event.
For more information on where or how to play any of the participating games, see the following contacts. Any sponsors or donations to help send players to the games are also greatly appreciated:
Bridge - USBF: Bill Pollack, VP, http://www.usbf.org
Checkers - ACF: Allan Millhone, http://wwwusacheckers.com
Chess - USCF: USCF -- David Pruess, http://www.uschess.org
Go - AGA: Chris Kirschner http://www.usgo.org/
Xiangqi - not available at this time.
###