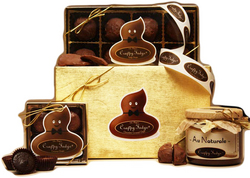 Melbourne, FL (PRWEB) September 29, 2008
After an explosive introduction in 2007, CrappyFudge has made new products available for chocolate lovers to treat that special someone this holiday season and on any occasion that warrants giving a gift. Each gift comes with a select phrase that can be sent anonymously, or with a personal note. And to help it along, the adorable Mr. Plop the fudge drop emerges this year, adding his delicious chocolate covered chips, coconut drops, and Mr. Plop's signature fudge drops.
Along with the CrappyFudge Company's door-opening spoon-to-eat fudge, the milk chocolate covered or "smothered" chips, dark and milk chocolate lightly toasted coconut drops, and milk chocolate covered "special recipe" fudge drops make for a difficult selection that will move chocolate lovers to want to try them all. CrappyFudge is available to local Melbourne, FL residents at the company's retail location, and to all U.S. and Canadian residents through their company website at crappyfudge.com.
About CrappyFudge:
CrappyFudge, a collaboration between Anne Dockendorf and an 11th generation chocolatier, is a company with a mission, products, and phrases with a double entendre of a feculent likeness. Each product comes with a phrase that is sure to provoke laughter, get your point across, or better--both. Their all natural products are produced in a U.S. licensed and regulated chocolate factory with the highest quality ingredients creating the irony in the name; a name and concept that makes it fun and irresistible.
For more information about CrappyFudge, visit http://www.crappyfudge.com.
Contact:
Anne Dockendorf
495 Stan Drive, Suite 105
Melbourne, FL 32904
Ph: 321-514-5318
Fax: 321-574-5800
Email: anne @ crappyfudge.com
###