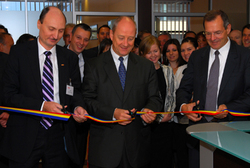 Although DuPont has been present in Romania for more than 30 years, we are focusing on the rapidly expanding economies in central and eastern Europe
Bucharest, Romania (Vocus) September 29, 2008 –-
As a result of the company's emerging markets growth strategy, DuPont has nearly doubled its revenue in Romania since opening its first office in Bucharest in 2005 and now has 20 locations across Central Europe.
DuPont's presence has expanded significantly in Central Europe in recent years, with new locations established in Sofia, Bulgaria and Belgrade, Serbia, last year. DuPont's Romania headquarters were moved to a new location this month after outgrowing its original quarters.
"Although DuPont has been present in Romania for more than 30 years, we are focusing on the rapidly expanding economies in central and eastern Europe," said Ian Hudson, president – DuPont Europe, Middle East and Africa. "We bring a diversified suite of innovative solutions that addresses Romania's growing industries including the agriculture, automotive, energy and construction segments."
DuPont is a leader in Romania's agricultural development. The company's Pioneer Hi-Bred business built one of the world's most advanced corn and sunflower seed production facilities at Ganeasa, near Bucharest – a $26 million (USD) investment. DuPont also offers a wide range of crop protection products to Romanian farmers.
Romania's automotive industry is a particularly robust example of the country's growth. With a growing consumer demand for automobiles, Romania has attracted automotive manufacturers and their suppliers to capitalize on the market growth, in addition to a highly qualified labor pool.
DuPont provides more than 100 products – including advanced materials and coatings to the Romanian automotive OEM market for vehicle interiors, exteriors and engine components. A mobile, interactive exhibit showcasing the DuPont offering called, "The DuPont Automotive Road Show," is touring Romania in October with stops in Timisoara and Pitesti.
In the automotive aftermarket, DuPont coatings are marketed under the DuPont Refinish, Standox and Spies Hecker brands. The products are used across Romania in collision repair shops and automobile dealerships.
The company also expects to see rapid growth in Romania's construction market in coming years with a range of products aimed at improving energy efficiency, safety and comfort.
DuPont is a science-based products and services company. Founded in 1802, DuPont puts science to work by creating sustainable solutions essential to a better, safer, healthier life for people everywhere. Operating in more than 70 countries, DuPont offers a wide range of innovative products and services for markets including agriculture and food; building and construction; communications; and transportation.
Forward-Looking Statements: This news release contains forward-looking statements based on management's current expectations, estimates and projections. All statements that address expectations or projections about the future, including statements about the company's strategy for growth, product development, market position, expected expenditures and financial results are forward-looking statements. Some of the forward-looking statements may be identified by words like "expects," "anticipates," "plans," "intends," "projects," "indicates," and similar expressions. These statements are not guarantees of future performance and involve a number of risks, uncertainties and assumptions. Many factors, including those discussed more fully elsewhere in this release and in DuPont's filings with the Securities and Exchange Commission, particularly its latest annual report on Form 10-K, as well as others, could cause results to differ materially from those stated. These factors include, but are not limited to changes in the laws, regulations, policies and economic conditions of countries in which the company does business; competitive pressures; successful integration of structural changes, including acquisitions, divestitures and alliances; research and development of new products, including regulatory approval and market acceptance, and seasonality of sales of agricultural products.
# # #