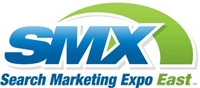 Redding, CT (PRWEB) September 30, 2008 -
The importance of search engine optimization (SEO) for large organizations is the focus of a special session at Search Marketing Expo - SMX East. SMX East will be held at the Jacob K. Javits Convention Center in New York City, October 6-8th.
"Leveraging SEO As A Core Business Initiative" will discuss how SEO is the most valuable, long-term strategy that can be leveraged to accommodate potential cost increases, drive relevant brand visibility and engagement, and maximize return on search marketing investment. This panel discussion will share insights on enterprise-level SEO and keys to running successful SEO programs within large organizations, including:

Championing SEO to help it become a central part of your organization's marketing initiatives
Establishing SEO as a staple of your online presence and search marketing program
Understanding the benefits of running Organic and Paid in tandem as a holistic search strategy
Identifying SEO strategies that leverage your online assets to meet your marketing objectives
This session is open to all SMX East attendees and will take place October 7th at 1:30 p.m.
"Advertisers are having to face the effects of a changing search marketing landscape -- engine deals, potential mergers, and tighter budgets -- as we enter '09 and experience a weaker economy. Amidst these changes, search engine optimization (SEO) will emerge as the most cost-effective, reliable staple in any online marketing platform to ensure visibility and drive consumer engagement," said Patrick Garrett, U.S. Managing Director, Outrider. "At SMX East, we will be hosting a panel discussion centered around SEO and how advertisers can leverage SEO as a marketing strategy within their organization, making it a core business initiative across multiple business units. This subject is important to discuss so that advertisers have a clear understanding of how SEO can positively impact their business and how SEO is a long-term solution to driving engagement amidst potentially rising search costs."
"SMX has proven to be a forum that delivers high-caliber search discussions," added Garrett. "The content is diverse and the atmosphere is intimate, compared to other industry events. We have found this gives advertisers and practitioners the opportunity to come together and really have valuable conversations and debates about ideas and strategies that drive search marketing forward."
SMX East will offer more than 80 sessions and presentations by leading search marketing authorities specializing in areas such as search engine optimization (SEO), paid search advertising, link building, keyword analysis, and Web analytics. See the complete list of sessions, presentations, and speakers at http://smxeast.com
Those interested in attending the event can register online for just $1,395 until October 5th for an All-Access Pass, which includes sessions, keynotes, networking activities, hot lunches, and complimentary WiFi access. Registration at the door will be $1,595.
More than 50 search marketing solution providers will exhibit at SMX East. Expo hall tickets, which include access to more than 30 sessions in the SMX Theater and Outrider's "Leveraging SEO As A Core Business Initiative" session, are free with online pre-registration, or $50 at the door.
About Outrider:
Outrider, a division of GroupM Search and winner of the 2008 Yahoo! Searchlight Award and 2008 SES Award for Best Integration of Search with Other Media, is a leading global search marketing agency specializing in holistic, advanced search marketing strategies that are integrated with advertisers' cross-channel media planning. Outrider serves as the incubation brand for the development of emerging trends and new practices within GroupM Search in order to develop best practices in a dedicated search marketing environment that can be executed across all GroupM agencies.
Outrider is a WPP company and a division of GroupM, WPP's media buying and planning arm responsible for 30% of the world's media buying. With North American headquarters in St. Louis, Mo., Outrider has offices in New York, Chicago, Seattle, Sunnyvale, Boston, Toronto, and throughout the EMEA and APAC regions, creating a network of 40 global offices serving more than 40 countries.
Outrider brings clients the leading proprietary technology solution Decide DNA®, supporting Paid Search, SEO, Paid Inclusion and Shopping Feeds in one platform, and rated #1 twice by JupiterResearch. Outrider has provided integrated search marketing and consumer-driven media strategies at the global, national and local-market level to category-leading clients including: AT&T, Dell, AstraZeneca, Showtime, Microsoft, Chevron, Diageo and more. Services include organic search, paid search, advanced search strategies (social media marketing, mobile search, local search, video search and more), analytics, conversion services (website optimization), creative services and consulting.
About SMX East and Third Door Media, Inc.:
Search Marketing Expo - SMX East is produced by Third Door Media, Inc. Third Door Media's mission is to empower internet and search marketing professionals by providing trusted content and community services they need to be successful. Other Search Marketing Expo events include SMX West, SMX Advanced, SMX Social Media Marketing, SMX Munich, and SMX London. The full list is available at the Search Marketing Expo site.
Third Door Media also publishes the search marketing news and analysis site Search Engine Land, produces Search Marketing Now, a lead-generation marketing solution for suppliers of SEM-related products and services, and Sphinn.com, the place for web, online, search, interactive and internet marketers to share news stories, talk within subject-specific discussion forums, build a network, and stay connected to hot topics in internet marketing.
###